ASOR 2020 Virtual Booth
Welcome to the virtual book exhibit for the Annual Meeting of ASOR. Use the coupon code ASOR20 for 30% off.
Meet the acquisitions editor for Eisenbrauns. Dr. Jen Singletary, the Press's acquisitions editor for the Eisenbrauns imprint of PSUP, welcomes the opportunity to meet prospective authors and hear about their work. If you are working on a manuscript, developing a book project, or just have an idea for a book in ancient Near Eastern or biblical studies, please inquire with Jen by sending her an email message with a brief description of the idea (no more than 300 words, please). Jen will review the submissions and, if the project looks like a good fit for the list, will be in touch about setting up a Zoom meeting.
Browse the PSU Press ASOR offerings here.
Mailing List
Subscribe to our mailing list and be notified about new titles, journals, and catalogs.

Catalog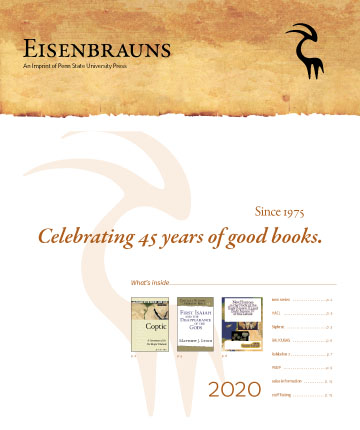 2020 Titles