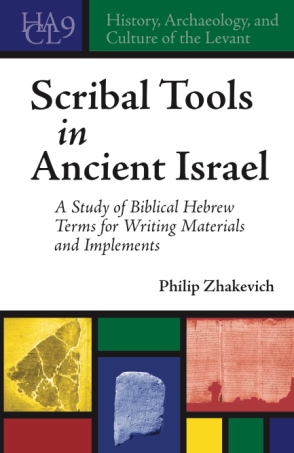 Scribal Tools in Ancient Israel
A Study of Biblical Hebrew Terms for Writing Materials and Implements
Philip Zhakevich
COMING IN NOVEMBER
Scribal Tools in Ancient Israel
A Study of Biblical Hebrew Terms for Writing Materials and Implements
Philip Zhakevich
"Scribal Tools in Ancient Israel makes a singular, useful contribution that will be consulted and used by scholars for generations to come."
Description

Reviews

Bio

Table of Contents
In this book,
Philip Zhakevich
examines the technology of writing as it existed in the southern Levant during the Iron Age II period, after the alphabetic writing system had fully taken root in the region. Using the Hebrew Bible as its corpus and focusing on a set of Hebrew terms that designated writing surfaces and instruments, this study synthesizes the semantic data of the Bible with the archeological and art-historical evidence for writing in ancient Israel.
The bulk of this work comprises an in-depth lexicographical analysis of Biblical Hebrew terms related to Israel's writing technologies. Employing comparative Semitics, lexical semantics, and archaeology, Zhakevich provides a thorough analysis of the origins of the relevant terms; their use in the biblical text, Ben Sira, the Dead Sea Scrolls, and ancient Hebrew inscriptions; and their translation in the Septuagint and other ancient versions. The final chapter evaluates Israel's writing practices in light of those of the ancient world, concluding that Israel's most common form of writing (i.e., writing with ink on ostraca and papyrus) is Egyptian in origin and was introduced into Canaan during the New Kingdom.
Comprehensive and original in its scope,
Scribal Tools in Ancient Israel
is a landmark contribution to our knowledge of scribes and scribal practices in ancient Israel. Students and scholars interested in language and literacy in the first-millennium Levant in particular will profit from this volume.
"Scribal Tools in Ancient Israel makes a singular, useful contribution that will be consulted and used by scholars for generations to come."
Philip Zhakevich is Lecturer in Hebrew at Princeton University.
1. The Horsemen of Israel: Horses and Chariotry in Monarchic Israel (Ninth–Eighth Centuries b.c.e.), by Deborah O'Daniel Cantrell
2. Donkeys in the Biblical World: Ceremony and Symbol, by Kenneth C. Way
3. The Wilderness Itineraries: Genre, Geography, and the Growth of Torah, by Angela R. Roskop
4. Temples and Sanctuaries from the Early Iron Age Levant: Recovery after Collapse, by William E. Mierse
5. Poetic Astronomy in the Ancient Near East: The Reflexes of Celestial Science in the Literature of Ancient Mesopotamia, Ugarit, and Israel, by Jeffrey L. Cooley
6. A Monetary and Political History of the Phoenician City of Byblos in the Fifth and Fourth Centuries b.c.e., by J. Elayi and A. G. Elayi
7. The Land before the Kingdom of Israel: A History of the Southern Levant and the People Who Populated It, by Brendon C. Benz
8. Baal, St. George, and Khidr, by Robert D. Miller
Mailing List
Subscribe to our mailing list and be notified about new titles, journals and catalogs.