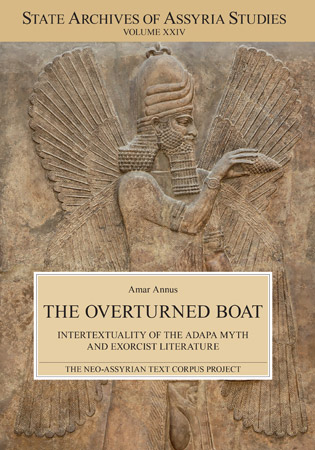 The Overturned Boat
Intertextuality of the Adapa Myth and Exorcist Literature
Amar Annus
Buy
The Overturned Boat
Intertextuality of the Adapa Myth and Exorcist Literature
Amar Annus
"A challenging and valuable treatment of Mesopotamian myth and ritual that takes risks few in ancient Near Eastern studies would take."
Description

Reviews

Table of Contents

Subjects
The Adapa myth is a literary work of ancient Mesopotamia with different versions in Sumerian and Akkadian. According to the Adapa myth, the sage and cook from Eridu goes fishing to the Persian Gulf, where the South Wind capsizes his boat. The sage's curse breaks the wing of the South Wind. Adapa lies seven days in the ocean, whence he is summoned to heaven, to be positively judged by the sky god Anu. The present book investigates the literary development of the Adapa myth and argues that it represents an exorcistic version of the flood story with the protagonist as priest. In the Adapa myth, the primordial sage survives the flood, which serves as ideological background for exorcism, āšipūtu. The exorcist, who used fire and water as sanitizing substances during the rituals, impersonated Adapa, who had gone through an extreme form of purification himself. Adapa's critical period in the sea was the symbolic etiology for illnesses, difficult births, witchcraft, bad omens, sin, and imprisonment, which the exorcist was able to counter. The deluge was a symbol of water ordeal and judgment, for which the exorcist's assistance was sought. Because Adapa was given rebirth from his disaster, the human exorcist as his embodiment possessed the powers of the flood in manipulating the purifying substances and incantations against all misfortune. The identity constituting narrative of ancient Mesopotamian exorcism is explored with a methodology combining the intertextual studies with cognitive neuroscience.
"A challenging and valuable treatment of Mesopotamian myth and ritual that takes risks few in ancient Near Eastern studies would take."
Acknowledgements
Abbreviations
Introduction
Introduction to the Methodology
Part One: Beginning of the Cosmos
Adapa - the Sage Before or After the Flood?
The Adaba Myth in Sumerian
The Adapa Myth as the Exorcistic Flood Story
The Seasonal Placement of the Adapa Myth
The First Creatures: Adapa, Kulla, and Alulu
Adapa and Enmerkar
Inanna and the Heavenly Boat
Part Two: Descent and Ascent
The Descent into Apsû
The Ascent to Heaven
The Netherworld River
The Adapa Myth as Ordeal Text
The Exorcistic Incantations and Adapa's Rebirth
The Marduk Ordeal
The Hymn to Nungal
The King in EnclosurePart Three: Adapa and Exorcism
The Healing Incantations
Berossos' Account of the Babylonian Creation Myth
Adapa, who Remained in Heaven
Adapa's Anointing and Clothing
The Sages of Apsû as Witches
Sending Evil Away in a Boat
The Sinking Boat of Dumuzi
Adapa and the Cook of Alexander
The Flood Survivor and al-KhidrConclusion: The Identity of Exorcist
Appendices
Appendix 1: The Adaba Myth Translated from Sumerian
Appendix 2A: Critical Essay on the Comparative Method used in this Study?
The Two Views of History
Comparison Types
Validity Problems
The General Theory of Exorcism in the Ancient Mesopotamia
Appendix 3: The Chart of Comparanda in the Present Book
Bibliography
Indices