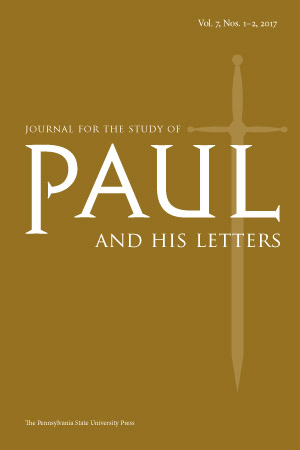 Journal for the Study of Paul and His Letters
Stanley E. Porter, Editor
SUBSCRIBE / RENEW
Journal for the Study of Paul and His Letters
Stanley E. Porter, Editor
Description

Board

Submissions

Pricing

Indexing
The Apostle Paul stands as an incredibly important figure within the religious and intellectual history of Christianity and Judaism in the first century. The study of Paul (the historical person, author, tradition, and legend) and the Pauline letters (content, context, authenticity, theology, and reception) continue to capture the fascination of scholars, students, religious communities, and even the media. A number of journals geared toward New Testament studies in general often contain a disproportionate number of articles dedicated to the study of the Pauline corpus. There is a never-ending avalanche of Ph.D. dissertations written about Paul and about the countless approaches and methods used to analyze the Pauline materials. Indeed, the study of Paul and the Pauline letters appears to be an almost inexhaustible field of investigation. Pauline research has long needed its own dedicated journal as a specific conduit for Pauline research as it is broadly practiced. The Journal for the Study of Paul and His Letters fills this need in every respect, presenting cutting-edge research for scholars, teachers, postgraduate students, and advanced undergraduates related specifically to study of the Apostle Paul and cognate areas.
Editor
Stanley E. Porter, McMaster Divinity College
Associate Editors
Christopher D. Land, McMaster Divinity College
David I. Yoon, McMaster Divinity College
Editorial Board
Peter Balla, Károli Gáspár University of the Reformed Church
Richard Bell, Nottingham University
Michael F. Bird, Ridley College
Lynn H. Cohick, Denver Seminary
Susan Eastman, Duke University
Paul Foster, University of Edinburgh
Timothy Gombis, Grand Rapids Theological Seminary
Matthew V. Novenson, University of Edinburgh
Christoph Stenschke, University of South Africa
Joel Willitts, North Park University
To submit an article, please visit http://www.editorialmanager.com/jspl. The online system will guide you through the steps to upload your article to the editorial office. Manuscripts must not have been published, nor submitted for publication, elsewhere. Questions may be sent to the editor at .
Essays of 7500 words or less, inclusive of notes, are given priority. No essay should exceed 10,000 words, including notes.
Use footnotes; all notes, like the text, should be double-spaced. Bibliographies and reference lists are not allowed.
The essay should not include the name of the author, nor any self-reference to the author, whether in the body of the essay or in its footnotes. (For example, statements such as "See my essay...," or "As I have argued in...," should appear nowhere in the essay.)
On other issues of style, consult The SBL Handbook of Style (2nd ed.; Atlanta: SBL Press, 2014).
Institutional Print & Online - $70.00
Institutional Print or Online - $50.00
Institutional Single Issue - $30.00
Individual Print & Online - $47.00
Individual Print or Online - $35.00
Individual Single Issue - $22.00
Outside US add Shipping & Handling - $21.00
ATLA
European Reference Index for the Humanities and Social Sciences (ERIH PLUS)