Subsidiary Rights
We are happy to consider requests for subsidiary rights to Eisenbrauns publications, including:
– Translations in full
– English reprint in full
– Audio
– Digital
– Book club rights
Please complete and submit this form to make your request.
Questions?
Please contact PSU Press Sales and Marketing Director (814) 863-5994
Film & Television Rights
Stephen Moore
The Kohner Agency
9300 Wilshire Blvd., Suite 55
Beverly Hills, CA 90212
(310) 550-1060, ext. 207

Mailing List
Subscribe to our mailing list and be notified about new titles, journals and catalogs.
Reviews and Media
Catalog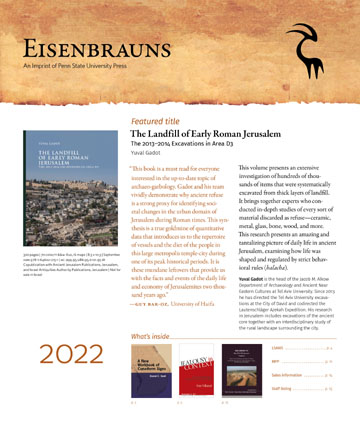 2022 Titles
"Ancient" Ancient News