Proposals
Before submitting a proposal, please be sure that Eisenbrauns is the appropriate publisher for your work, and follow the guidelines given below.
What to Include in Your Proposal
- Name and contact information
- Title
- Brief description of the book (1–2 pages)
- Chapter outline (including titles and brief descriptions of each chapter)
- Original contributions to or interventions in the field
- Interaction with complementary studies
- Description of the intended audience/market considerations
- Status of the work, including date by which the manuscript will be complete
- Specifications of the manuscript: length of the manuscript in words, including notes and bibliography and number and type of illustrations, if any (color, b/w, maps, tables, etc.)
- Apparatus (indexes, bibliographies)
- A curriculum vitae or resume
- If the book is related to a dissertation, a detailed explanation outlining how it is has been revised for publication is required. If the dissertation is available online through Open Access, indicate whether you have the option to place a permanent or long-term embargo on its dissemination. Please note that Eisenbrauns cannot review unrevised dissertations.
We prefer to receive proposals electronically but request that you first please send a brief e-mail query to before sending the full proposal.
If you prefer to submit your proposal via the U.S. Postal Service or another mail carrier, please include a self-addressed stamped envelope and send to:
Eisenbrauns
c/o Penn State University Press
820 North University Drive
University Support Building 1, Suite C
University Park, PA 16802-1003
Mailing List
Subscribe to our mailing list and be notified about new titles, journals and catalogs.
Reviews and Media
Catalog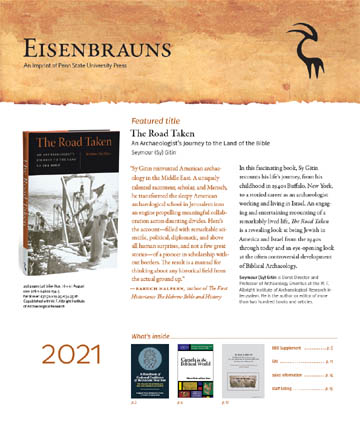 2021 Titles
Bluelines