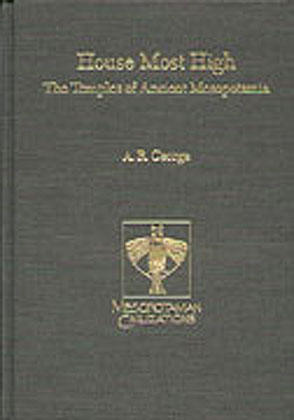 House Most High
The Temples of Ancient Mesopotamia
Andrew R. George
Buy
House Most High
The Temples of Ancient Mesopotamia
Andrew R. George
"The author has done the field a great service in collecting all this information; the book is a must for anyone interested in Mesopotamian religion, and history as well."
Description

Reviews

Table of Contents
Originally begun in collaboration with Professor W. L. Moran, this work collects all of the extant cuneiform tablets inscribed with lists of temples. The temple lists are classified in terms of their organization, whether associated with lexical lists, organized theologically, topographically, or hierarchically—presenting deities and temples according to their relative rank.
The main part of the book is an up-to-date gazetteer of the ceremonial names of ancient Mesopotamian temples. This gazetteer replaces similar (though less complete) listings from earlier in the century and provides (where known) location, divine owner, and other relevant information for each temple listed. By including not only names from temple lists, but also from other literary genres, Professor George has provided a standard reference guide that Assyriologists and others with interest in Mesopotamian religion will consult with regularity for years to come.
Indexes to the gazetteer of divine, personal, and royal names, and of cuneiform tablets enhance the reference value of this unique tool. The sixteen plates include some material not previously published.
"The author has done the field a great service in collecting all this information; the book is a must for anyone interested in Mesopotamian religion, and history as well."
"[A. R. George's] book undoubtedly will be the definitive study of Mesopotamian temple names for quite a long time to come."
Preface
Abbreviations
Part One. The Temple Lists of Ancient Mesopotamia
Introduction
Lexical Temple Lists
Theological Temple Lists
The Canonical Temple List (no)
A Hierarchical Temple List
The Babylonian Temple List (no)
Geographical Temple Lists
The Khorsabad Temple List (no)
The Kuyunjik Ziqqurrat List (no.4)
The Neo-Babylonian Ziqqurrat List (no)
An Explanatory Temple List, From Kis to Apak (no)
Other Temple Lists (nos-9)
Part Two. The Temples of Ancient Mesopotamia: A Gazetteer
Introduction
Gazetteer of Ceremonial Names
Unnamed Temples, Listed by Divine Owner
Ceremonial Names of Royal Palaces
Indexes to the Gazetteer
Divine Names
Geographical Names
Royal and Personal Names
Lexical Index
Index of Cuneiform Tablets
Index of Previous Publication
Plates 1-16