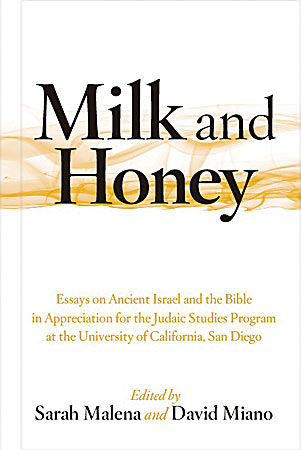 Milk and Honey
Essays on Ancient Israel and the Bible in Appreciation of the Judaic Studies Program at the University of California, San Diego
Edited by Sarah Malena and David Miano
Buy
Milk and Honey
Essays on Ancient Israel and the Bible in Appreciation of the Judaic Studies Program at the University of California, San Diego
Edited by Sarah Malena and David Miano
From the
Foreword
—
Description

Table of Contents

Errata
From the
Foreword
—
In a very short stretch of years, the Judaic Studies Program at the University of California, San Diego, has developed into one of the most important centers for teaching and research in biblical studies, in ancient Near Eastern and biblical archaeology, and more generally in Judaic studies. The program now rivals far older centers of study in these fields in eastern research universities. I have been an admirer of the program for some years, proud of former students of mine whose energy and foresight have contributed to the developments in La Jolla, including the establishment of endowed chairs that guarantee the future of this center and its program.
This collection of essays honoring the Judaic Studies Program and its faculty is a testimony to the fecundity of the program in producing scholars, whose essays dominate the collection. Several essays come from other scholars whose home base is in the West and who have engaged in colloquia and common pursuits with the San Diego faculty. . . . There are sections on Genesis, poetry and prophecy, narrative and history, lexicon, archaeology, and (not least) paleography.
—Frank Moore Cross
Harvard University
Foreword
Encomia
The Judaic Studies Program at UCSD: A History Sarah Malena and David Miano
Part 1: Genesis
A Goddess in the Garden? The Fall of Eve Shawna Dolansky
Jacob's Bargain with God (Genesis 28:20–22) and Its Implications for the Documentary Hypothesis Jeffrey C. Geoghegan
Do Not Interpretations Belong to God? A Narrative Assessment of Genesis 40 as It Elucidates the Persona of Joseph Miriam Sherman
Part 2: Poetry and Prophecy
Quantitative Analysis of the Tribal Sayings in Deuteronomy 33 and Its Significance for the Poem's Overall Structure Brian Kelly
The Lion Has Roared: Rhetorical Structure in Amos 1:2–3:8 Jack R. Lundbom
On the Use of the Name of God in the Book of Jonah Elizabeth Goldstein
Part 3: Narrative and History
The Good Book and the Bad Movies: Moses and the Failure of Biblical Cinema Michael M. Homan
What Happened in the Fourteenth Year of Hezekiah? A Historical Analysis of 2 Kings 18–20 in the Light of New Textual Considerations David Miano
Where Is God? Divine Presence in the Absence of the Temple Risa Levitt Kohn and Rebecca Moore
Part 4: Lexicon
The First Halleluyah Ziony Zevit
Spice Roots in the Song of Songs Sarah Malena
The Participle in Biblical Hebrew and the Overlap of Grammar and Lexicon Francis I. Andersen and A. Dean Forbes
Part 5: Archaeology and Paleography
Biomolecules, Bedouin, and the Bible: Reconstructing Ancient Foodways in Israel's Northern Negev Margie Burton
From the Wilderness of Zin alongside Edom: Edomite Territory in the Eastern Negev during the Eighth–Sixth Centuries B.C.E. Laura M. Zucconi
The Gamla Coin: A New Perspective on the Circumstances and Date of Its Minting Yoav Arbel
Due to a technical production problem, the map on p. 221 was printed at the wrong resolution, obscuring most of the page. A replacement page is available here for download.