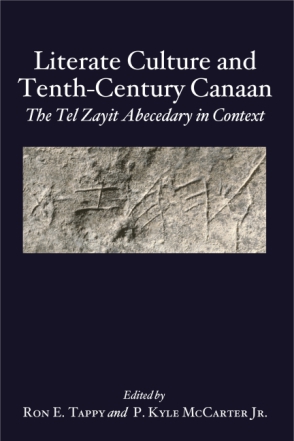 Literate Culture and Tenth-Century Canaan
The Tel Zayit Abecedary in Context
Edited by Ron E. Tappy, and P. Kyle McCarter Jr
BUY
Literate Culture and Tenth-Century Canaan
The Tel Zayit Abecedary in Context
Edited by Ron E. Tappy, and P. Kyle McCarter Jr
Winner of the 2009 Frank Moore Cross award from The American Schools of Oriental Research (ASOR)
Description

Table of Contents
Winner of the 2009 Frank Moore Cross award from The American Schools of Oriental Research (ASOR)
On the final day of the 2005 excavation at Tel Zayit, archaeologists discovered a heavy limestone boulder with a large, bowl-shaped hollow ground into one side and two lines of alphabetic writing incised into the other side. This inscription was recognized to be an abecedary containing all the letters of the Canaanite alphabet—the most substantial abecedary found thus far in a stratified 10th-century archaeological context in Israel. It evinces the linear alphabetic script of the central and southern Canaanite interior at the beginning of the first millennium B.C.E.
The essays in this book grew out of papers presented at the 2007 annual meeting of the American Schools of Oriental Research. In them, the contributors situate the archaeological, geographical, and social context of Tel Zayit and discuss the paleography of the script. They also offer insightful analysis regarding the possible extent of literacy and education in ancient Israel and comment on the degree to which scribal culture may have contributed to the process of state formation.
The book is accompanied by a DVD containing a "picture-book" of the excavations and many photos of the inscription, as well as links to high-resolution photos for a detailed study of the material.
Ron E. Tappy is the G. Albert Shoemaker Professor of Bible and Archaeology at Pittsburgh Theological Seminary and the Director of the Zeitah Excavations.
P. Kyle McCarter is the William Foxwell Albright Professor of Ancient Near Eastern Studies at the Johns Hopkins University.
Preface
Chapter 1: Tel Zayit and the Tel Zayit Abecedary in Their Regional Context Ron E. Tappy
Chapter 2: Paleographic Notes on the Tel Zayit Abecedary P. Kyle McCarter
Chapter 3: The Phoenician Script of the Tel Zayit Abecedary and Putative Evidence for Israelite Literacy Christopher A. Rollston
Chapter 4: Writing and Early Iron Age Israel: Before National Scripts, Beyond Nations and States Seth L. Sanders
Chapter 5: The Tel Zayit Abecedary in (Social) Context David M. Carr