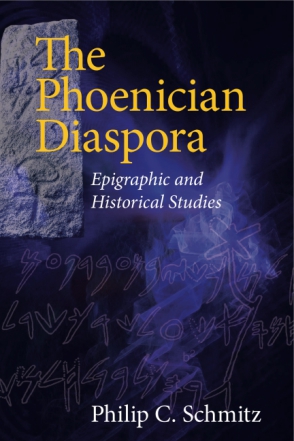 The Phoenician Diaspora
Epigraphic and Historical Studies
Philip Schmitz
BUY
The Phoenician Diaspora
Epigraphic and Historical Studies
Philip Schmitz
Just Arrived April 12
Description

Table of Contents
Just Arrived April 12
In this approachable and articulate study, Philip C. Schmitz offers close interpretations of six ancient texts, four previously published Phoenician and Punic inscriptions and two Phoenician inscriptions published for the first time. The author selected the previously known texts because readings of their letters and interpretation of their grammar and syntax are not yet well established. Each of the selected texts stands as an original source concerning Phoenician settlement in the western Mediterranean, Phoenician activity in Egypt, or the economic life and religious beliefs and practices of ancient Carthage.
Chapter 1 rapidly surveys the history of Phoenician-Punic epigraphy and offers a limited inventory of recent publications of epigraphic texts. Chapter 2 undertakes a new reading and translation of the Phoenician stele from Nora, Sardinia (CIS I 144). Chapter 3 edits and translates the larger Phoenician inscriptions from Abu Simbel, in Egypt (CIS I 112). Chapter 4 concerns the paleographic analysis of selected Phoenician graffiti from Tell el-Maskhuta. Chapter 5 publishes an overlooked dipinto inscription on an amphora excavated at Carthage. (An appendix by Joann Freed contextualizes the amphora.) Chapter 6 takes a text-critical look at CIS I 6068, an enigmatic Punic inscription on lead, thought since its discovery to be a curse text. Schmitz argues that it is not a curse but a quittance for debt. Chapter 7 is a new reading and translation of CIS I 6000bis, a Punic epitaph from the Hellenistic period of Carthage.
Among the features of this book that may interest students and scholars are: new translations and interpretations of important inscriptions the translation and interpretation of which have been disputed; previously unpublished photographs of inscriptions, illustrating difficult readings; author's hand drawings of difficult readings; and grammatical analysis with reference to other known texts and standard reference works.
1. Phoenician Epigraphy's Third Century
Iraq
Turkey
Syria
Lebanon
Israel/Palestine
Cyprus
Greece
Italy
Egypt
Tunisia
2. The Phoenician Stele from Nora (CIS I 144)
Text
Word Division
Sentence Division
Translation
Readings
Commentary
Paleography
Cultural Implications
Historical Implications
3. Three Phoenician "Graffiti" at Abu Simbel (CIS I 112)
CIS I 112 b1
CIS I 112 c1 + b2
CIS I 112 a
Historical Implications
4. Phoenician Atramentary Texts from Tell el-Maskhuta
The Tell el-Maskhuta Excavations
The Phoenician Atramentary Texts
5. A Phoenician Amphora from Carthage with a Dipinto Inscription
The Dipinto Inscription
Paleographic Commentary
Interpretation
Appendix: The Casque-Shaped Amphora at Carthage by Joann Freed
6. A Punic Economic Text on Lead (CIS I 6068)
The Punic Text
Sentence Analysis
Translation
Interpretation
The Supporting Medium
Type and Form
Conclusion
7. The Punic Epitaph of Mlkpls from Carthage (CIS I 6000bis)
CIS I 6000bis
Prosopographic Notes
The Reference to Future Life
Appendix: Previous Translations
Bibliography
Index
Mailing List
Subscribe to our mailing list and be notified about new titles, journals and catalogs.