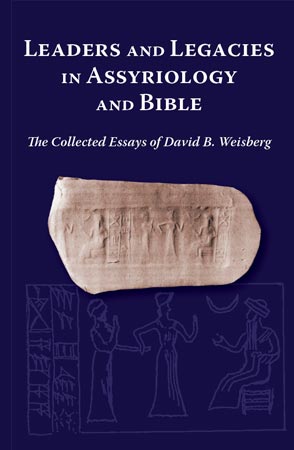 Leaders and Legacies in Assyriology and Bible
The Collected Essays of David B. Weisberg
David B. Weisberg
Buy
Leaders and Legacies in Assyriology and Bible
The Collected Essays of David B. Weisberg
David B. Weisberg
David Weisberg became fascinated by Assyriology as an undergraduate at Columbia University. Already endowed with a strong background in Hebraica, he soon came to know that he needed the deeper immersion of a graduate program, and he enrolled at Yale to pursue it. David's interests soon focused on the Chaldean Dynasty of Nebuchadnezzar and the Achaemenid Dynasty of Cyrus the Great. Weisberg's thesis succeeded in illuminating the wider significance of some previously unpublished cuneiform texts from this period?as well as earning him the doctorate. The thesis appeared in the recently established Yale Near Eastern Researches (1967) under the somewhat daunting title
Guild Structure and Political Allegiance in Early Achaemenid Mesopotamia
, and David's career was launched.
Description

Table of Contents
David Weisberg became fascinated by Assyriology as an undergraduate at Columbia University. Already endowed with a strong background in Hebraica, he soon came to know that he needed the deeper immersion of a graduate program, and he enrolled at Yale to pursue it. David's interests soon focused on the Chaldean Dynasty of Nebuchadnezzar and the Achaemenid Dynasty of Cyrus the Great. Weisberg's thesis succeeded in illuminating the wider significance of some previously unpublished cuneiform texts from this period?as well as earning him the doctorate. The thesis appeared in the recently established Yale Near Eastern Researches (1967) under the somewhat daunting title
Guild Structure and Political Allegiance in Early Achaemenid Mesopotamia
, and David's career was launched.
Weisberg's oeuvre, as exemplified by the nearly three dozen essays conveniently assembled in this volume, attest both to his prodigious industriousness and to the loss that the field of Assyriology has suffered in his untimely demise. As is clear from the Table of Contents, he continued to make major contributions to the study of the Neo-Babylonian period (especially regarding political and military history and the doings of ancient royals) but he also offered seminal insights in other areas, including Masoretic studies, rabbinics, social and economic life of the ancient Near East, as well as the interface between modern culture and study of the ancient world.
—Based on W. W. Hallo's "Introduction"
Part 1: Political and Military History and Ancient Royals
Loyalty and Death: Some Ancient Near Eastern Metaphors
Zabaya, an Early King of the Larsa Dynasty Rib-Hadda's Urgent Tone: A Note on EA 74:50
The Length of the Reign of Hallusu-Insusinak
Esarhaddon and Egypt: A Preliminary Investigation
A Sale of Property from the Time of Esarhaddon, "King of Lands"
The Neo-Babylonian Empire
The "Antiquarian" Interests of the Neo-Babylonian Kings
Royal Women of the Neo-Babylonian Period
A "Dinner at the Palace" during Nebuchadnezzar's Reign
Notes on Nebuchadnezzar's 37th Year
Polytheism and Politics: Some Comments on Nabonidus' Foreign Policy
Part 2:Texts and Legacies
The Impact of Assyriology on Biblical Studies
Assyriology
An Old Babylonian Forerunner to Summa Alu
The R. Campbell Thompson Tablets Published by Ivan Lee Holt
A Guided Tour through Babylonian History: Cuneiform Inscriptions in the Cincinnati Art Museum
Bible, Masorah, and Rabbinics
Jacob Wards Off Endangerment
Wool and Linen Material in Texts from the Time of Nebuchadnezzar
Character Development in the Book of Ruth
The Rare Accents of the Twenty-One Books
"Break in the Middle of a Verse": Some Observations on a Massoretic Feature
I. O. Lehman, HUC mss 951–981 from Kai Feng, and a Purported Link between China and Yemen
Some Observations on Late Babylonian Texts and Rabbinic Literature
Visibility of the New Moon in Cuneiform and Rabbinic Sources [Ben Zion Wacholder and David B. Weisberg]
"Feet of Iron" in the Babylonian Talmud? [Israel O. Lehman and David B. Weisberg ]
Part 3: Social and Economic History
Everyday Life in the Neo-Babylonian Period: The Integration of Material and Non-Material Culture*
A Neo-Babylonian Dialogue Document (3.123)
A Mar Banutu Text from the Town of Hubat
A Neo-Babylonian Temple Report
Pirquti or Sirkuti? Was Istar-ab-ussur's Freedom Affirmed or Was He Re-Enslaved?
Part 4: Critical Self-Reflection
"Splendid Truths" or "Prodigious Commotion"?
Ancient Near Eastern Texts and the Study of the Bible
A Centennial Review of Friedrich Delitzsch's "Babel und Bibel" Lectures [Bill T. Arnold and David B. Weisberg]
Delitzsch in Context [Bill T. Arnold and David B. Weisberg]
Babel und Bibel und Bias: How Anti-Semitism Distorted Friedrich Delitzsch's Scholarship [Bill T. Arnold and David B. Weisberg]
On Reading Archival Texts: M. Jursa's Comments to OIP 122 and the Limits of Criticism
Indexes