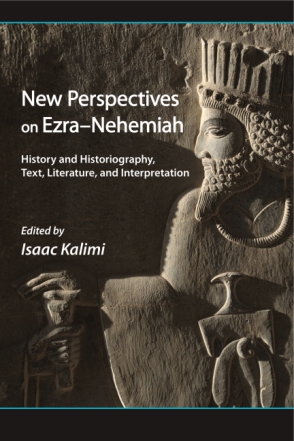 New Perspectives on Ezra-Nehemiah
History and Historiography, Text, Literature, and Interpretation
Edited by Isaac Kalimi
BUY
New Perspectives on Ezra-Nehemiah
History and Historiography, Text, Literature, and Interpretation
Edited by Isaac Kalimi
"A well-rounded treatment of several aspects of current research."
Description

Reviews

Table of Contents
New Perspectives on Ezra–Nehemiah
offers a range of fresh, current views among scholars on the biblical books of Ezra and Nehemiah (traditionally, "Ezra"). These books focus on two short periods in the history of Judah in the Persian era: one recounts the events from the Cyrus Decree in 538 B.C.E. until the inauguration of the Second Temple in 515 B.C.E.; the other relates the acts of the Judean spiritual and political leaders, Ezra and Nehemiah, roughly two generations later, under the rule of Artaxerxes I, king of Persia. Ezra/Ezra–Nehemiah certainly remains the most significant written source for the study of the religious, social, and political aspects of Judah (and to some extent Samaria) in the Persian age, even in light of other biblical prophetical, literary, and historical writings from the Persian period (for example, Haggai, Zechariah, Malachi, Chronicles, and Esther) and enlightening archaeological and epigraphical finds (for example, Elephantine and Wadi-Dalia papyri, short inscriptions, coins, seals, and bullae). Ezra–Nehemiah also presents unique instances of the literary genre
memoir
, late biblical historiography, and late Hebrew language.
The editor hopes that the original studies gathered in this volume will lead to a better understanding of issues in Ezra/Ezra–Nehemiah and will stimulate further research on this enthralling late biblical-historical writing.
"A well-rounded treatment of several aspects of current research."
In the Persian Period: New Perspectives on Ezra–Nehemiah Isaac Kalimi
Part 1. History and Historiography
Ezra's Use of Documents in the Context of Hellenistic Rules of Rhetoric Lisbeth S. Fried
What Was Nehemiah Up To? Looking for Models for Nehemiah's Polity Lester L. Grabbe
Nehemiah: Subject of the Empire, Subject of Writing Don Polaski
Nehemiah as a "Court Jew" Klaas A. D. Smelik
Nehemiah 3: Sources, Composition and Purpose Oded Lipschits
On Nehemiah's City-Wall and the Size of Jerusalem during the Persian Period: An Archaeologist's View David Ussishkin
The Real History: The Theological Ideas behind Nehemiah's Wall Manfred Oeming
Some Issues in Ezra–Nehemiah Ran Zadok
Part 2. Text, Literature, and Interpretation
Hidden Treasure: The Unpublished Doublet Catchwords in Ezra–Nehemiah David Marcus
Where Did the Judahites, Benjaminites, and Levites Settle? Revisiting the Text of Nehemiah 11:25–36 MT and LXX Deirdre N. Fulton
The Census List in Ezra 2 and Nehemiah 7: A Suggestion Paul L. Redditt
Nehemiah's Request on Behalf of Jerusalem Joseph Fleishman
Prayer as Rhetoric in the Book of Nehemiah Mark J. Boda
Index of Authors
Index of Scripture
Mailing List
Subscribe to our mailing list and be notified about new titles, journals and catalogs.