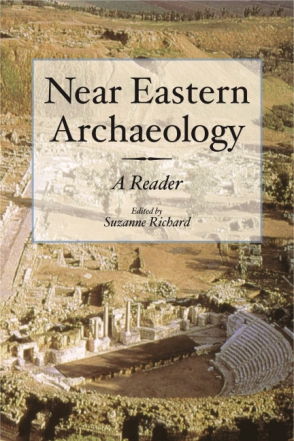 Near Eastern Archaeology
A Reader
Edited by Suzanne Richard
BUY
Near Eastern Archaeology
A Reader
Edited by Suzanne Richard
Paperback reprint of the cloth original
Description

Table of Contents
Paperback reprint of the cloth original
Winner of the 2004 Outstanding Academic Title award from the American Library Association!
Filling a gap in classroom texts, more than 60 essays by major scholars in the field have been gathered to create the most up-to-date and complete book available on Levantine and Near Eastern archaeology.
Foreword William G. Dever
Introduction Suzanne Richard
Part I Theory, Method, and Context
Geography of the Levant Barry Beitzel
Paleoenvironments of the Levant Arlene Miller Rosen
Archaeozoology Paula Wapnish and B. Hesse
Paleoethnobotany Peter Warnock
Method and Theory in Syro-Palestinian Archaeology J. S. Holladay, Jr.
Bible and Archaeology Walter E. Rast
Levantine Archaeology T. W. Davis
Text Sources for Levantine Archaeology: The Bible J. M. Miller
Writing and Scripts Gary A. Rendsburg
Semitic Languages Gary A. Rendsburg
Writing: The Archaeology of Writing (Writing Materials) Alan R. Millard
Northwest Semitic Epigraphic Sources Alan Millard
Chronology of the Southern Levant William G. Dever
Survey of Preclassical Architecture in the Levant G. R. H. Wright
Bronze and Iron Age Burials and Funerary Customs in the Southern Levant Elizabeth Bloch-Smith
Subsistence Pastoralism Oystein S. LaBianca
Agriculture David C. Hopkins
Roads and Highways David A. Dorsey
Nautical Archaeology in the Eastern Mediterranean Deborah N. Carlson
Ethnography/Ethnoarchaeology Gloria London
Ethnicity and Material Culture Gloria London
Women in the Ancient Near East Susan Ackerman
Everyday Life (Customs, Manners, and Laws) Victor H. Matthews
Archaeological Survey in the Southern Levant E. B. Banning
Restoration of Ancient Monuments: Theory and Practice G. R. H. Wright
Metalworking/Mining in the Levant James D. Muhly
Weapons and Warfare G. Philip
Ceramics/Kilns Gloria London
Jewelry in the Levant E. E. Platt
The Mosaics of Jordan M. Piccirillo
Numismatics (Minting and Monetary Systems/Coinage) in the Levant K. Butcher
Scarabs William A. Ward
GIS and Archaeological Survey Gary L. Christopherson
Computer Applications in Archaeology E. B. Banning
Part II Cultural Phases and Associated Topics
The Paleolithic in Syria-Palestine Geoffrey A. Clark and Nancy R. Coinman
The Neolithic Period G. O. Rollefson
Prehistoric Chipped-Stone Technology Gary O. Rollefson
The Chalcolithic of the Southern Levant T. E. Levy
The Nahal Mishmar Hoard from the Judean Desert Miriam Tadmor
Negev M. Haiman
The Early Bronze Age in the Southern Levant S. Richard
Southern Sinai in the Early Bronze Age II I. Beit-Arieh
Theory in Archaeology: Culture Change at the End of the Early Bronze Age Jesse C. Long, Jr.
Archaeology of the Dead Sea Plain in Jordan Walter E. Rast
The Middle Bronze Age (circa 2000-1500 b.c.e.) David Ilan
Canaanite Religion Beth Alpert Nakhai
The Late Bronze Age lbert Leonard
El-Amarna Texts Victor H. Matthews
Trade and Exchange in the Levant Eric H. Cline
Palestine in the Iron Age Randy Younker
Religion and Cult in the Levant: The Archaeological Data William G. Dever
Goddesses Susan Ackerman
Syria-Palestine in the Persian Period Charles E. Carter
The Samaritans T. Giles
The Hellenistic Period Andrea M. Berlin
Nabateans David F. Graf
Classical Text Sources in the Levant David F. Graf
Jewish Art and Iconography in the Land of Israel Rachel Hachlili
Synagogues in the Land of Israel Steven Fine
Golan Synagogues Zvi ?Uri Ma?oz
Early Christian Iconography Linda Sue Galate
Early Christian Churches in Israel Joseph Patrich