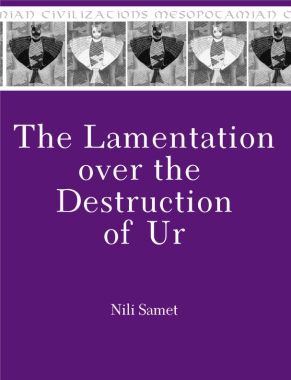 The Lamentation over the Destruction of Ur
Nili Samet
Buy
The Lamentation over the Destruction of Ur
Nili Samet
"Since the Lamentation over the Destruction of Ur is the most famous model of the city laments, Samet's presentation of a revised edition of the Sumerian Lamentation over the Destruction of Ur provides an important updated resource for the study of this unique genre. It will be of special interest to students and scholars engaged in the study of ancient Mesopotamian civilizations. However, since the Lamentation over the Destruction of Ur provides a parallel to the biblical book of Lamentations, it will also be of interest to students of the Bible."
Description

Reviews

Table of Contents
The goal of this book is to present a revised edition of the Sumerian
Lamentation over the Destruction of Ur
, a lament bewailing the fall of the glorious Ur III kingdom in 2004 B.C.E.
Lamentation is a well-known genre in world literature. Laments of various types are part of the cultural legacy and literary corpus of many societies, from ancient to modern times, and Sumerian literature is no exception. However, Mesopotamian lamentation literature includes a significant body of laments belonging to a unique and almost unparalleled genre—the genre of lamentations over the destruction of cities and temples. This genre has no known ancient parallel outside the ancient Near East; more specifically, it is almost exclusively attested in Sumerian and biblical literature. The Lamentation over the Destruction of Ur is the most famous and important exemplar of the city-laments.
In this updated and revised publication of the Lamentation over the Destruction of Ur, Samet provides an introductory discussion of Sumerian city-laments in general; a full presentation of the text of the Ur Lament, including transliteration, translation, and an extensive philological commentary; and an accounting of the extant textual witness in score format. Plates with color photos of many texts are included.
"Since the Lamentation over the Destruction of Ur is the most famous model of the city laments, Samet's presentation of a revised edition of the Sumerian Lamentation over the Destruction of Ur provides an important updated resource for the study of this unique genre. It will be of special interest to students and scholars engaged in the study of ancient Mesopotamian civilizations. However, since the Lamentation over the Destruction of Ur provides a parallel to the biblical book of Lamentations, it will also be of interest to students of the Bible."
"Nili Samet has produced an accessible volume on a complex composition. This book is a welcome addition to the library of Assyriologists and Biblicists alike and the new critical edition Samet has given us will aid scholars in furthering our understanding of the Lament over Ur and related texts."
1. Introduction
1.1. Sumerian Laments over Cities and Temples
1.2. Sumerian City Laments
1.2.1. Dating and Historical Background
1.2.2. The Cultic Setting of the City Laments
1.2.3. The City Laments as a Genre
1.3. The Lamentation over the Destruction of Ur
1.3.1. Content
1.3.2. Structure, Style, and Meaning
2. Revised Edition of the Ur Lament
2.1. Previous Editions and Translations
2.2. The Present Edition
2.3. List of Manuscripts
2.3.1. Indexes of Previous Works
2.4. Descriptions of Manuscripts
2.4.1. Manuscripts from Nippur
2.4.2. Manuscripts from Ur
2.4.3. Manuscripts from Kiš
2.4.4. A Manuscript from Sippar
2.4.5. Manuscripts of Unknown Provenance
3. Transliteration and Translation
4. Commentary
5. Score
Bibliography
Indexes
Index of Words, Particles, and Idioms Discussed
Index of Divine Names in the Ur Lament
Index of Geographical and Topographical Names
Index of Sumerian Sources
Plates