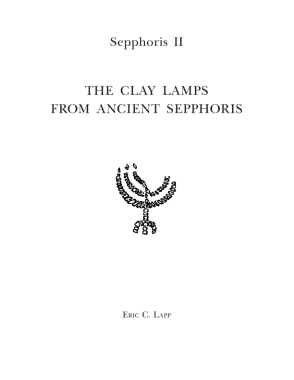 Sepphoris II
The Clay Lamps of Ancient Sepphoris
Eric C. Lapp
Buy
Sepphoris II
The Clay Lamps of Ancient Sepphoris
Eric C. Lapp
"Future discussions of Galilean economy and migration in these periods will have to deal with Lapp's argument. . . . The book certainly belongs in university library stacks, but its cost makes it accessible to individuals as well. Hence it must find its way into personal libraries not only of archaeologists and lychnologists but also of scholars of Second Temple and formative Judaism, early Christianity, and the eastern limits of the Roman Republic and Empire—let us say Palestine in the Roman through Byzantine periods, straying into the early Islamic period."
Description

Reviews

Table of Contents
Sepphoris was an important Galilean site from Hellenistic to early Islamic times. This multicultural city is described by Flavius Josephus as the "ornament of all Galilee," and Rabbi Judah the Prince (ha-Nasi) codified the Mishnah there around 200 CE. The Duke University excavations of the 1980s and 1990s uncovered a large corpus of clay oil lamps in the domestic area of the western summit, and this volume presents these vessels. Richly illustrated with photos and drawings, it describes the various shape-types and includes a detailed catalog of 219 lamps.
The volume also explores the origins of the Sepphoris lamps and establishes patterns of their trade, transport, and sale in the lower city's marketplace. A unique contribution is the use of a combined petrographic and direct current plasma-optical emission spectrometric (dcp-oes) analysis of selected lamp fabrics from sites in Israel and Jordan. This process provided valuable information, indicating that lamps found in Sepphoris came from Judea, the Decapolis, and even Greece, suggesting an urban community fully engaged with other regional centers. Lamp decorations also provide information about the cosmopolitan culture of Sepphoris in antiquity. Discus lamps with erotic scenes and mythological characters suggest Greco-Roman influences, and menorahs portrayed on lamps indicate a vibrant Jewish identity.
"Future discussions of Galilean economy and migration in these periods will have to deal with Lapp's argument. . . . The book certainly belongs in university library stacks, but its cost makes it accessible to individuals as well. Hence it must find its way into personal libraries not only of archaeologists and lychnologists but also of scholars of Second Temple and formative Judaism, early Christianity, and the eastern limits of the Roman Republic and Empire—let us say Palestine in the Roman through Byzantine periods, straying into the early Islamic period."
Chapter 1. Introduction
1. Volume Description
2. Lamp Profile
3. Count
4. Findspots
5. Methodology
Chapter 2. Local and Regional Types
1. Introduction
2. Typology
3. Religious Lamp Art
4. Summary
Chapter 3. Imported Types
1. Introduction
2. Typology
3. Summary
Chapter 4. Petrographic and DCP-OES Analysis of Lamps from Sepphoris and the Decapolis
1. Introduction
2. Short History of Research
3. Purpose
4. Research Problem
5. Methods and Procedures
6. Sample Selection
7. Reference Materials
8. Results and Discussion
9. Summary
Chapter 5. Regionalism, Trade, and the Sepphoris Marketplace
1. Introduction
2. Lamp Regionalism and Continuity
3. Identity of Population and Cultural Interactions
4. Lamp Workshops
5. Lamp Supply from Village to Polis
6. Road Networks, Lamps, and the Sepphoris Marketplace
7. Lamp Transport to the Sepphoris Marketplace
8. Selling Lamps in City Marketplaces
9. Lamps and the Sepphoris Agoranomoi
10. Travelers, Merchants, and Pilgrims
11. Indicators of Interactions: Local and Regional Palestinian Lamps Abroad
12. Imported Lamps at Sepphoris and Other Sites of Roman Palestine
13. Summary
Chapter 6. Conclusion
1. "Culture of Light"
2. Connections
3. Material Sourcing
4. Cosmopolitanism
Appendix A. Reports of Select Loci
Appendix B. Macroscopic Descriptions of Lamp Samples
Bibliography
Plates
Mailing List
Subscribe to our mailing list and be notified about new titles, journals and catalogs.