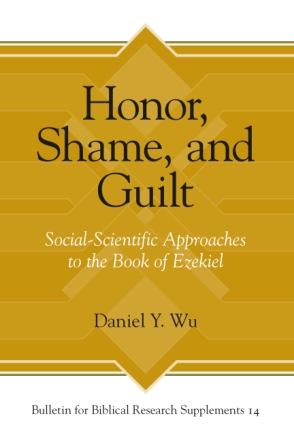 Honor, Shame, and Guilt
Social-Scientific Approaches to the Book of Ezekiel
Daniel Y. Wu
Buy
Honor, Shame, and Guilt
Social-Scientific Approaches to the Book of Ezekiel
Daniel Y. Wu
"The book will find a place in libraries that serve students and scholars working on Ezekiel and broader social-scientific approaches to biblical literature."
Description

Reviews

Table of Contents
In this study, Wu explores how the concepts honor, shame, and guilt function in the book of Ezekiel, as well as in the wider contexts of their general use in anthropological or social-scientific approaches to biblical studies. He frames Ezekiel's key terms for honor (kabod), shame (bosh), and guilt ('awah) within an analysis of a broad perspective on these terms in the body of the Old Testament as a way of forming the "concept spheres" within which the specific instances of each term in Ezekiel sit. Wu gleans insight from the dominant contemporary definitions of honor, shame, and guilt in the fields of psychology and anthropology and their application to biblical studies, and he reflects on how this broader context informs and is informed by his analysis of Ezekiel. The study concludes by drawing together the implications and contribution of the analysis of Ezekiel and applying them to the development of social-scientific models for the future.
"The book will find a place in libraries that serve students and scholars working on Ezekiel and broader social-scientific approaches to biblical literature."
Acknowledgments
Foreword
Abbreviations
1. Introduction to the Study of Honor and Shame in the Book of Ezekiel: Emic A
2. Anthropological Approaches to Biblical Studies: Imposed Etic
3. Shame (and Guilt) in Recent Study: Imposed Etic
4. Honor in Ezekiel:Emic B Part 1
5. Shame in Ezekiel: Emic B Part 2
6. Guilt in Ezekiel: Emic B Part 3
7. Conclusion: Derived Etic
Appendix: Implications of This Study for Models of Atonement Theology
Bibliography
Indexes
Index of Authors
Index of Scripture
Mailing List
Subscribe to our mailing list and be notified about new titles, journals and catalogs.