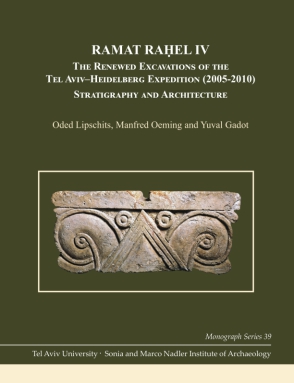 Ramat Raḥel IV
The Renewed Excavations by the Tel Aviv–Heidelberg Expedition (2005–2010) Stratigraphy and Architecture
Oded Lipschits, Manfred Oeming, and Yuval Godot
Buy
Ramat Raḥel IV
The Renewed Excavations by the Tel Aviv–Heidelberg Expedition (2005–2010) Stratigraphy and Architecture
Oded Lipschits, Manfred Oeming, and Yuval Godot
"The editors are to be commended for having published the stratigraphy and architecture of Ramat Raḥel, a hill site located at the outskirts of Jerusalem. The extensive list of loci at the end of this volume is exemplary for the admirable work the team has deployed to understand the complex history of building and rebuilding."
Offers

Media

Description

Reviews

Bio

Table of Contents

Sample Chapters
Customers in Israel buy here.
Visit the Ramat Raḥel Archaeological Project website here.
This is the first of a three-volume final report on the Tel Aviv–Heidelberg Renewed Excavations at Ramat Raḥel, 2005–2010. It presents the stratigraphy and architecture of the excavation areas, including portions of the palatial compound, the subterranean columbarium complex, and the Late Roman cemetery; site formation of the tell; twentieth-century fortifications at the site; and the ancient garden and its water installations.
"The editors are to be commended for having published the stratigraphy and architecture of Ramat Raḥel, a hill site located at the outskirts of Jerusalem. The extensive list of loci at the end of this volume is exemplary for the admirable work the team has deployed to understand the complex history of building and rebuilding."
Oded Lipschits is Director of the Sonia and Marco Nadler Institute of Archaeology of Tel Aviv University.
Manfred Oeming is Professor of Old Testament Theology and Vice President of the College for Jewish Studies at the University of Heidelberg.
Yuval Gadot is Associate Professor and Chair of the Jacob M. Alkow Department of Archaeology and Ancient Near Eastern Cultures at Tel Aviv University.
Publications by the Ramat Raḥel Expedition
PREFACE
Oded Lipschits, Manfred Oeming and Yuval Gadot
PART I: INTRODUCTION
CHAPTER 1 STRATEGIC LOCATION AND NATURAL SURROUNDINGS
Oded Lipschits, Yuval Gadot and Manfred Oeming
CHAPTER 2 THE ANCIENT NAME OF THE SITE
Oded Lipschits and Nadav Na'aman
CHAPTER 3 HISTORY OF RESEARCH
Oded Lipschits, Yuval Gadot and Manfred Oeming
CHAPTER 4 THE RENEWED EXCAVATIONS OF THE TEL AVIV–HEIDELBERG EXPEDITION
Yuval Gadot, Liora Freud, Manfred Oeming and Oded Lipschits
PART II: AREA REPORTS
CHAPTER 5 AREAS A1, B1 AND B3 WITH AN EMPHASIS ON THE CEMETERY
Keren Ras
CHAPTER 6 AREA B2
Boaz Gross
CHAPTER 7 AREA C1
Nitsan Shalom and Boaz Gross
CHAPTER 8 AREA C2
Assaf Kleiman
CHAPTER 9 AREA D1
Efrat Bocher and Lisa Yehuda
CHAPTER 10 AREA D2
Shatil Emmanuilov
CHAPTER 11 AREA D3: COURTYARD 380, THE INNER GATE AND BUILDING 468
Ido Koch
CHAPTER 12 AREA D4
Omer Sergi
CHAPTER 13 AREA D6
Ido Koch and Nirit Kedem
CHAPTER 14 SURVEY AND EXCAVATIONS OF SUBTERRANEAN FEATURES BETWEEN AREAS D6 AND C1
Uri Davidovich and Roi Porat
CHAPTER 15 AREA UG7: THE SOUTHERN COLUMBARIUM
Uri Davidovich
CHAPTER 16 AREA T: SURVEY AND EXCAVATIONS ON THE WESTERN SLOPE
Uri Davidovich and Naomi Porat
PART III: SYNTHESIS
CHAPTER 17 SITE FORMATION AT RAMAT RAḤEL: THE NATURAL TOPOGRAPHY AND CHANGES MADE DURING ITS HISTORY
Nirit Kedem, Yuval Gadot and Oded Lipschits
CHAPTER 18 THE ANCIENT GARDEN AND ITS WATER INSTALLATIONS
Boaz Gross, Yuval Gadot and Oded Lipschits
CHAPTER 19 TWENTIETH CENTURY FORTIFICATIONS
Efrat Bocher
CHAPTER 20 DECONSTRUCTION AND RECONSTRUCTION: REEVALUATING THE FIVE EXPEDITIONS TO RAMAT RAḤEL
Oded Lipschits, Yuval Gadot and Manfred Oeming
LIST OF LOCI
Mailing List
Subscribe to our mailing list and be notified about new titles, journals and catalogs.