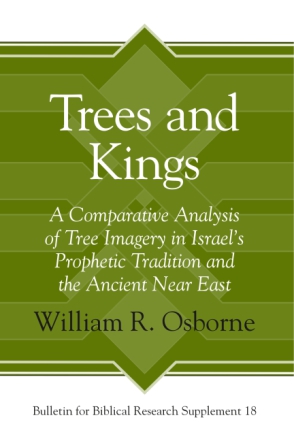 Trees and Kings
A Comparative Analysis of Tree Imagery in Israel's Prophetic Tradition and the Ancient Near East
William R. Osborne
Buy
Trees and Kings
A Comparative Analysis of Tree Imagery in Israel's Prophetic Tradition and the Ancient Near East
William R. Osborne
"Osborne's study offers additional nuance to prior examinations of prophetic agricultural imagery, demonstrating that both ancient Israel and its surrounding cultures commonly utilized tree imagery in distinct ways that bear upon one's understanding of the prophetic texts."
Description

Reviews

Bio

Table of Contents
The Old Testament prophets did not hesitate to use the rhetorical conventions accessible to them when delivering their sermons of salvation and judgment. One source of comparison used frequently in the prophets and widely throughout the ancient Near East is the image of a tree. In
Trees and Kings
, William Osborne evaluates the cultural and cognitive setting that potentially gave rise to this figurative tree imagery, drawing on both comparative study with ancient Near Eastern tree imagery and the cognitive-linguistic approach to metaphor theory.
Osborne examines tree metaphors that appear in the texts of Israel's writing prophets, specifically Isaiah, Jeremiah, and Ezekiel. He takes this material as largely reflective of the Israelite prophetic tradition from the 8th–6th centuries BC. Tree imagery in the Old Testament is certainly not limited to these prophetic books, and this study takes many of these texts into consideration in seeking to understand tree imagery in Isaiah, Jeremiah, and Ezekiel better. The question is rarely asked, why do the prophets often defer to the metaphorical use of the tree? The goal of this study is to answer this important question by comparing and contrasting tree metaphors in much of the prophetic literature of the Old Testament with tree imagery and metaphors encountered from the ancient Near East.
"Osborne's study offers additional nuance to prior examinations of prophetic agricultural imagery, demonstrating that both ancient Israel and its surrounding cultures commonly utilized tree imagery in distinct ways that bear upon one's understanding of the prophetic texts."
William R. Osborne is Assistant Professor of Biblical and Theological studies at College of the Ozarks.
List of Figures
Preface
Abbreviations
1. Background and MethodologyIntroduction
Prophetic Rhetoric
Methodological Considerations
Previous Research and the Present Study
Conclusion
2. Tree Imagery in the Ancient Near East: Egypt and MesopotamiaTrees in the Ancient Near East
Tree Imagery, Gods, and Kings in Ancient Egypt
Gods and Trees in Ancient Egypt
Trees, Temples, and Kings in Ancient Egypt
Tree Imagery, Gods, and Kings in Mesopotamia
3. Tree Imagery in the Ancient Near East: Syria-Palestine and the BibleTree Imagery in Syria-Palestine
Tree Metaphors and Imagery in and around the Biblical Text
Trees and the Righteous
Trees and Love Songs
Trees as Sacred Sites in Ancient Israel
Conclusion
4. Trees and Kings in Isaiah, Jeremiah, and EzekielIntroduction
Trees and Kings in Isaiah
Tree and Kings in Jeremiah
Trees and Kings in Ezekiel
Conclusion
5. Summary and ConclusionsSummary
Areas of Future Research
Appendix: A Catalog of Tree Imagery in the Books of Isaiah, Jeremiah, and Ezekiel
Bibliography
Mailing List
Subscribe to our mailing list and be notified about new titles, journals and catalogs.