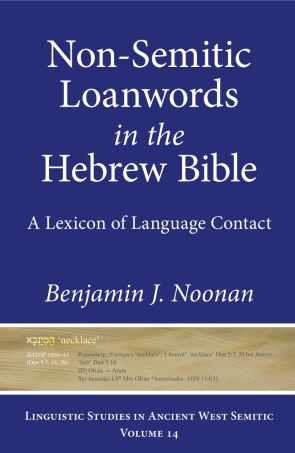 Non-Semitic Loanwords in the Hebrew Bible
A Lexicon of Language Contact
Benjamin J. Noonan
Buy
Non-Semitic Loanwords in the Hebrew Bible
A Lexicon of Language Contact
Benjamin J. Noonan
"This is an effective summary of previous studies of this subject and adds many perceptive insights of the author himself. ... [T]he book as a whole provides much stimulating supplementary material for any Hebrew dictionary that has decided to ignore or been content to provide only out-of-date etymological data."
Description

Reviews

Bio

Table of Contents
Ancient Palestine served as a land bridge between the continents of Asia, Africa, and Europe, and as a result, the ancient Israelites frequently interacted with speakers of non-Semitic languages, including Egyptian, Greek, Hittite and Luwian, Hurrian, Old Indic, and Old Iranian. This linguistic contact led the ancient Israelites to adopt non-Semitic words, many of which appear in the Hebrew Bible. Benjamin J. Noonan explores this process in
Non-Semitic Loanwords in the Hebrew Bible
, which presents a comprehensive, up-to-date, and linguistically informed analysis of the Hebrew Bible's non-Semitic terminology.
In this volume, Noonan identifies all the Hebrew Bible's foreign loanwords and presents them in the form of an annotated lexicon. An appendix to the book analyzes words commonly proposed to be non-Semitic that are, in fact, Semitic, along with the reason for considering them as such. Noonan's study enriches our understanding of the lexical semantics of the Hebrew Bible's non-Semitic terminology, which leads to better translation and exegesis of the biblical text. It also enhances our linguistic understanding of the ancient world, in that the linguistic features it discusses provide significant insight into the phonology, orthography, and morphology of the languages of the ancient Near East. Finally, by tying together linguistic evidence with textual and archaeological data, this work extends our picture of ancient Israel's interactions with non-Semitic peoples.
A valuable resource for biblical scholars, historians, archaeologists, and others interested in linguistic and cultural contact between the ancient Israelites and non-Semitic peoples, this book provides significant insight into foreign contact in ancient Israel.
"This is an effective summary of previous studies of this subject and adds many perceptive insights of the author himself. ... [T]he book as a whole provides much stimulating supplementary material for any Hebrew dictionary that has decided to ignore or been content to provide only out-of-date etymological data."
Benjamin J. Noonan is Associate Professor of Old Testament and Hebrew at Columbia International University. He is coeditor of "Where Shall Wisdom Be Found?" A Grammatical Tribute to Professor Stephen A. Kaufman, also published by Eisenbrauns.
List of Tables
Acknowledgments
List of Abbreviations
List of Entries
1. Introduction
1.1 History of Research
1.2 Corpus and Parameters of This Study
1.3 Terminology
1.4 Identifying Loanwords
1.5 Mechanisms of Borrowing
1.6 Loanwords as Cultural Symbols
1.7 Conclusion
2. Non-Semitic Contact in Ancient Palestine
2.1 The Egyptians
2.2 The Greeks
2.3 The Hittites and Luvians
2.4 The Hurrians
2.5 The Indo-Aryans
2.6 The Iranians
2.7 Conclusion
3. Non-Semitic Loanwords in the Hebrew Bible
4.Quantitative Analysis
4.1 Methodology and Terminology
4.2 General Distribution of the Hebrew Bible's Loanwords
4.3 Loanwords and the Hebrew Bible's Canonical Divisions
4.4 Loanwords and the Hebrew Bible's Source-Critical Divisions
4.5 Loanwords and the Hebrew Bible's Typological Divisions
4.6 Loanwords and Parts of Speech
4.7 Loanwords and Domain of Use
5.LinguisticAnalysis
5.1 Phonology
5.2 Orthography
5.3Morphology
6. Evidence for Dialect of Origin and Date of Borrowing
6.1 Egyptian
6.2 Greek
6.3 Hittite and Luvian
6.4 Hurrian
6.5 Old Indic
6.6 Old Iranian
6.7 Synthesis
Chapter 7. Non-Semitic Loanwords as Evidence for Foreign Contact in Ancient Palestine
7.1 The Egyptians
7.2 The Greeks
7.3 The Hittites and Luvians
7.4 The Hurrians
7.5 The Indo-Aryans
7.6 The Iranians
Epilogue
Appendix: Words Incorrectly Identi ed as Non-Semitic Loans
Bibliography
Index of Authors
Index of Scripture
Index of Ancient Sources
Index of Words
Mailing List
Subscribe to our mailing list and be notified about new titles, journals and catalogs.