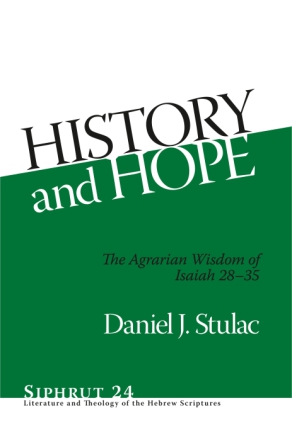 History and Hope
The Agrarian Wisdom of Isaiah 28-35
Daniel J. Stulac
Buy
History and Hope
The Agrarian Wisdom of Isaiah 28-35
Daniel J. Stulac
"Certainly an enriching reading, which shows once again how the book of Isaiah presents a mine of images and metaphors closely connected with the cultural fabric of the various historical moments in which the book itself was produced, redacted, and reviewed."
Description

Reviews

Bio
History and Hope
examines the rhetorical function of Isaiah 28–35, a relatively overlooked series of six woe oracles, in relation to reading the book of Isaiah as a whole. These eight chapters rely on the language of agrarian wisdom to transport the reader from prior reflections on historical destruction into a vision of ultimate hope. Stulac's study, therefore, offers new insight into the book of Isaiah, but perhaps more importantly, it does so through two methodological innovations that promise to enhance biblical research at large.

First, History and Hope develops an interpretive strategy based on ancient Israel's agro-ecological past. Through comparisons to the thought and practice of several contemporary agrarian thinkers (such as Wendell Berry), it draws attention to the holistic, traditional worldview of the people who created the Bible and develops an "agrarian hermeneutic" that is then used to examine the book of Isaiah. This interpretive strategy, which introduces a variety of observations consistent with ancient Israel's subsistence culture, offers a new lens on the Bible that is historically and phenomenologically appropriate to its premodern character. Second, the study applies modern narratology to the book of Isaiah in its final form, a move that allows for a careful delineation of the differences in knowledge that stand between the book's characters and its implied reader. When combined with an agrarian hermeneutic, narratological precision opens understanding of Isaiah's written rhetoric to the associative, soil-bound logic by which it is constructed.

In the past, many scholars have regarded Isaiah 28–35 as little more than a fragmentary reiteration of ideas already found in prior parts of the book. Now, through exegetical analysis of Isaiah 28–35 from an agrarian perspective, these eight chapters are interpreted as a rhetorical key to the overall book's coherent vision of destruction and hope.
"Certainly an enriching reading, which shows once again how the book of Isaiah presents a mine of images and metaphors closely connected with the cultural fabric of the various historical moments in which the book itself was produced, redacted, and reviewed."
"This is another very interesting application of the insights of modern agrarianism to the Bible."
Daniel J. Stulac is Adjunct Assistant Professor at Duke Divinity School.
Mailing List
Subscribe to our mailing list and be notified about new titles, journals and catalogs.