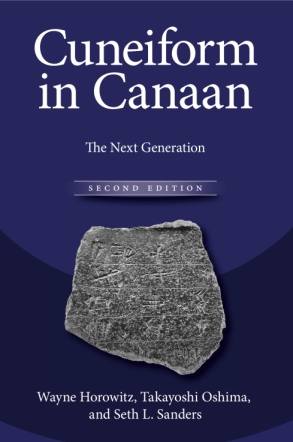 Cuneiform in Canaan
The Next Generation
Wayne Horowitz, Takayoshi Oshima, and Seth Sanders
Buy
Cuneiform in Canaan
The Next Generation
Wayne Horowitz, Takayoshi Oshima, and Seth Sanders
"Sanders has been responsible for the editions of the three alphabetic cuneiform inscriptions. By assembling all this material with his updated bibliography and indices, Horowitz maintains his commitment to directing this research project, which is supported by the Hebrew University."
Description

Reviews

Bio

Table of Contents
One of the earliest surviving manifestations of the cultural heritage of the Land of Israel in ancient times is the use of the cuneiform script from the Middle Bronze Age to the Iron Age. Cuneiform in Canaan: The Next Generation presents an updated version of the original Cuneiform in Canaan volume that was published by the Israel Exploration Society and the Hebrew University of Jerusalem in 2006. The updated volume presents all ninety-seven of the known texts, including new tablets and fragments from Hazor, Megiddo, and now, for the first time, Jerusalem. The volume provides critical editions, up-to-date bibliographies, and discussion of the sources, as well as a new, updated introduction highlighting the ongoing work of the Cuneiform in Canaan Research Project of the Hebrew University, under the directorship of Professor Wayne Horowitz of the Institute of Archaeology.
"Sanders has been responsible for the editions of the three alphabetic cuneiform inscriptions. By assembling all this material with his updated bibliography and indices, Horowitz maintains his commitment to directing this research project, which is supported by the Hebrew University."
Wayne Horowitz is Professor of Assyriology at the Hebrew University of Jerusalem. He is an authority on cuneiform texts in Sumerian and Akkadian that deal, directly or indirectly, with the structure of the cosmos.
Takayoshi Oshima is currently a Deutsche Forschungsgemeinschaft researcher at the Institute for Old Testament Studies, University of Leipzig.
Seth L. Sanders is Professor of Religious Studies at the University of California, Davis.
Part I: The Corpus
Introduction
The History of Cuneiform in Canaan
Part II: The Sources
Tel Aphek
Ashdod
Ashqelon
Beer Sheva
Ben Shemen
Tel Beth Mirsim
Beth Shean
Beth Shemesh
Gezer
Tel Hadid
Hazor
Hebron
Tel el-Hesi
Tel Jemmeh
Jericho
Tel Keisan
Khirbet Kusiya
Megiddo
Mikhmoret
Tel en-Nasbeh
Qaqun
Samaria
Sepphoris (Sippori)
Shechem
Shephela
Taanach
Tabor
Wingate
Part III: Alphabetic Cuneiform Texts By Seth Sanders
Beth Shemesh 1
Taanach 15
Tabor 1
Part IV: Indices and Bibliography
Index of Personal Names in the Sources
Index of Divine Names in the Sources
Index of Geographical Names in the Sources
Index of Subjects
Index of Sumerian and Akkadian Words Discussed
Abbreviations
Bibliography
Part V: Hand copies
Part VI: Photographs
Mailing List
Subscribe to our mailing list and be notified about new titles, journals and catalogs.