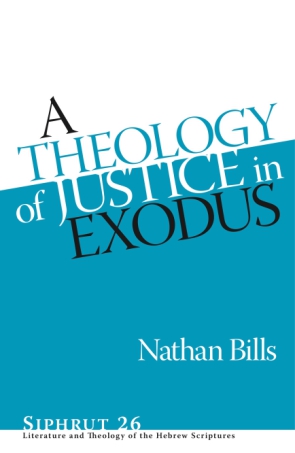 A Theology of Justice in Exodus
Nathan Bills
Buy
A Theology of Justice in Exodus
Nathan Bills
"This study successfully holds in balance (and sometimes in tension) careful analytical work with the text and broader theological conceptions and issues that arise and that in turn permit further critical interrogation of the text. It is a strength of the reading that it takes in the whole shape of the narrative of the book, incorporating initial struggle, combat, and resettlement in the tabernacle narrative."
Description

Reviews

Bio

Table of Contents

Sample Chapters
This book traces the theme of justice throughout the narrative of Exodus in order to explicate how yhwh's reclamation of Israel for service-worship reveals a distinct theological ethic of justice grounded in yhwh's character and Israel's calling within yhwh's creational agenda.
Adopting a synchronic, text-immanent interpretive strategy that focuses on canonical and inner-biblical connections, Nathan Bills identifies two overlapping motifs that illuminate the theme of justice in Exodus. First, Bills considers the importance of Israel's creation traditions for grounding Exodus's theology of justice. Reading Exodus against the backdrop of creation theology and as a continuation of the plot of Genesis, Bills shows that the ethical disposition of justice imprinted on Israel in Exodus is an application of yhwh's creational agenda of justice. Second, Bills identifies an educational agenda woven throughout the text. The narrative gives heightened attention to the way yhwh catechizes Israel in what it means to be the particular beneficiary and creational emissary of yhwh's justice. These interpretative lenses of creation theology and pedagogy help to explain why Israel's salvation and shaping embody a programmatic applicability of yhwh's justice for the wider world.
This volume will be of substantial interest to divinity students and religious professionals interested in the themes of exodus, exile, and return.
"This study successfully holds in balance (and sometimes in tension) careful analytical work with the text and broader theological conceptions and issues that arise and that in turn permit further critical interrogation of the text. It is a strength of the reading that it takes in the whole shape of the narrative of the book, incorporating initial struggle, combat, and resettlement in the tabernacle narrative."
"Nathan Bills offers a reading of justice in Exodus against the horizon of creation: the oppression of Israel is a 'cosmic affront,' and the exodus itself is a re-creation of cosmic order. The whole book of Exodus is held in careful scholarly focus. The result is a deeply engaged study, and all quite beautifully written, finding in Exodus a 'hermeneutical wardrobe' that leads the reader 'further up and further in' towards creational justice."
"This is an original, well-written and captivating account of the book of Exodus."
"This book makes such a valuable contribution to our understanding of OT Theology. . . . Nathan Bills deserves congratulations for moving us all forward in our understanding of the OT as a profound theological work with vast implications for ministry today."
Nathan Bills is Lecturer at Heritage Christian University College in Accra, Ghana.
Acknowledgments
1. Justice and Exodus
2. Defining Justice: Justice in the Ancient Near East and Israel
3. Justice Under Threat: Exodus1–4
4. Justice Championed: Exodus 5–15
5. Summoned to Justice: Exodus 15–24
6. Building for Justice: Exodus 25–40
7.Conclusion
Mailing List
Subscribe to our mailing list and be notified about new titles, journals and catalogs.