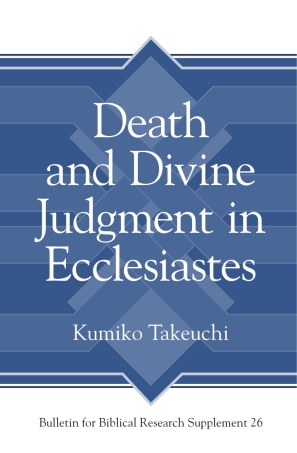 Death and Divine Judgment in Ecclesiastes
Kumiko Takeuchi
BUY
Death and Divine Judgment in Ecclesiastes
Kumiko Takeuchi
"Takeuchi has offered an insightful, well-researched exploration of a book that continues to vex readers and scholars. The author is to be commended for the ways in which she connects disparate elements of Ecclesiastes and for her insistence that the frame narrative be taken seriously as influencing any final reading of the book."
Description

Reviews

Bio

Table of Contents
In
Death and Divine Judgment in Ecclesiastes
, Kumiko Takeuchi provides a fresh take on the book of Ecclesiastes. Building on the current scholarly consensus that locates the composition of this book of the Hebrew Bible in the postexilic era, circa the late fourth or early third century BCE, Takeuchi proposes that Ecclesiastes may have served as a provocative voice for, or as a catalyst to, the emergence of apocalyptic eschatology and later sectarian conflicts within Judaism in the mid–Second Temple period.
During the postexilic era, when retributive justice appeared to be absent or not assured, some Israelites began to question traditional views of death, Sheol, and divine judgment. Situating Ecclesiastes in this social and historical context, Takeuchi reveals the book's hidden arguments in favor of posthumous divine judgment as a means to rectifying premortem injustices. Takeuchi advocates a modified frame-narrative reading of Ecclesiastes, arguing that the role of the third-person narrative in Ecclesiastes is pivotal for understanding the paradoxes within Qoheleth's monologue, its relationship to the epilogue, and the book's overall purpose.
The arguments in Death and Divine Judgment in Ecclesiastes challenge both traditional interpretations of the book of Ecclesiastes and conventional wisdom about when the belief in the postmortem application of divine justice began to take hold in Israelite society. This innovative interpretation is a must-read for biblical scholars, particularly those whose work focuses on the concept of justice.
"Takeuchi has offered an insightful, well-researched exploration of a book that continues to vex readers and scholars. The author is to be commended for the ways in which she connects disparate elements of Ecclesiastes and for her insistence that the frame narrative be taken seriously as influencing any final reading of the book."
"The monograph overall provides an intriguing take on how the book of Ecclesiastes could be read with particular attention to notions of death and divine judgment."
Kumiko Takeuchi is a fellow with Global Scholars in Olathe, Kansas.
Preface
List of Abbreviation
Chapter 1. Introduction
Chapter 2. Historical Context
Chapter 3. How Should We Read Ecclesiastes?
Chapter 4. Issues of Death and Injustice in Qoheleth's Monologue
Chapter 5. Qoheleth's Dilemma and Resolution
Chapter 6. Finding Coherence Between Qoheleth's Monologue and the Epilogue
Chapter 7. A Possible Role of Ecclesiastes in the Emergence of Jewish Apocalyptic Eschatology
Chapter 8. Conclusion
Bibliography
Index of Authors
Index of Scripture
Index of Ancient Sources
Mailing List
Subscribe to our mailing list and be notified about new titles, journals and catalogs.