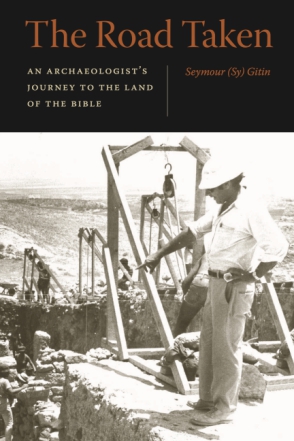 The Road Taken
An Archaeologist's Journey to the Land of the Bible
Seymour (Sy) Gitin
Buy
The Road Taken
An Archaeologist's Journey to the Land of the Bible
Seymour (Sy) Gitin
"Sy Gitin reinvented American archaeology in the Middle East. A uniquely talented raconteur, scholar, and Mensch, he transformed the sleepy American archaeological school in Jerusalem into an engine propelling meaningful collaboration across daunting divides. Here's the account—filled with remarkable scientific, political, diplomatic, and above all human surprises, and not a few great stories—of a pioneer in scholarship without borders. The result is a manual for thinking about any historical field from the actual ground up."
Description

Reviews

Bio

Table of Contents

Sample Chapters
In this fascinating book, Seymour (Sy) Gitin recounts his life's journey, from his childhood in 1940s Buffalo, New York, to a storied career as an archaeologist working and living in Israel.
Over the course of his life, Sy served as a rabbi in Los Angeles and as US Air Force Chaplain, starred in an Israeli movie, trained as an archaeologist, and eventually became the Director of the W. F. Albright Institute of Archaeological Research in Jerusalem, an institution he led for thirty-four years. As an archaeologist, Sy encouraged American participation in the archaeology of ancient Israel, fostered the development of the Palestinian archaeological community, and conducted valuable field work at Tell Gezer and Tel Miqne-Ekron. His tale is full of entertaining vignettes involving the people that he encountered along the way, including many of the pioneers in the field—W. F. Albright, Nelson Glueck, Yigael Yadin, Benjamin Mazar, and Trude Dothan, as well as current protagonists William G. Dever, Israel Finkelstein, and Amihai Mazar.
Readers will enjoy Sy's humorous and engaging stories: rationing out seder wine on a military base following the great Alaskan earthquake only to learn that soldiers were threatening to use it to brush their teeth, encounters with Senator Daniel Patrick Moynihan and US Ambassador Thomas Pickering, and the many colorful experiences he had with fellow scholars through the years.
An engaging and entertaining recounting of a remarkably lived life, The Road Taken is a revealing look at being Jewish in America and Israel from the 1940s through today and an eye-opening look at the often controversial development of biblical archaeology.
"Sy Gitin reinvented American archaeology in the Middle East. A uniquely talented raconteur, scholar, and Mensch, he transformed the sleepy American archaeological school in Jerusalem into an engine propelling meaningful collaboration across daunting divides. Here's the account—filled with remarkable scientific, political, diplomatic, and above all human surprises, and not a few great stories—of a pioneer in scholarship without borders. The result is a manual for thinking about any historical field from the actual ground up."
"There is no bombast, and fulsome gratitude is expressed to many who helped or worked with him. The tone strikes me as one of satisfaction, contentment, and gratitude at a job well done and a life well lived––and that is appropriate."
"The Road Taken will be an essential resource for the history of archaeological research in Israel. It is a laudable monument to Sy Gitin's contribution to our field. We can all be thankful for his efforts, as will future generations."
Seymour (Sy) Gitin is Dorot Director and Professor of Archaeology Emeritus at the W. F. Albright Institute of Archaeological Research in Jerusalem. He is the author or editor of more than two hundred books and articles, including the new "ceramic bible" for archaeologists, The Ancient Pottery of Israel and Its Neighbors and Confronting the Past: Archaeological and Historical Essays on Ancient Israel in Honor of William G. Dever, the latter also published by Eisenbrauns.
Contents
Preface
Acknowledgments
1. Early Years, 1936–1956
2. Rabbinic Studies in Cincinnati and Israel, 1956–1962
3. Into the Real World: The Military and Civilian Rabbinate, 1962–1967
4. A New Direction, 1967–1970: The Road to Archaeological Studies
5. Doctoral Studies and Excavations in Israel, 1970–1979
6. Albright Institute: A New Beginning and a Vision for the Future, 1979–
7. Albright Institute: First Decade, 1980–1989
Gallery A
8. Albright Institute: Second Decade, 1990–1999
9. Albright Institute: Third Decade, 2000–2009
Gallery B
10. Albright Institute: Fourth Decade, 2010–2014
Epilogue
Appendixes
Notes
References
Index
Mailing List
Subscribe to our mailing list and be notified about new titles, journals and catalogs.