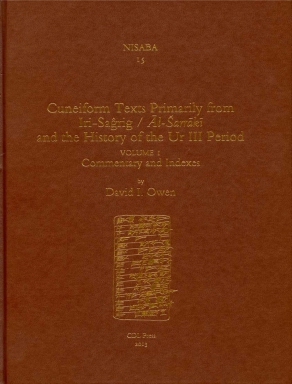 Cuneiform Texts Primarily from Iri-Saĝrig/Āl-Šarrākī and the History of the Ur III Period
Edited by David I. Owen
BUY
Cuneiform Texts Primarily from Iri-Saĝrig/Āl-Šarrākī and the History of the Ur III Period
Edited by David I. Owen
Seven years in the making, this publication restores a major section of the archives of the Sumerian city of
Iri-Saĝrig/Āl-Šarrākī
during the Third Dynasty of Ur (ca. 2012–2004 B.C.E.).
Seven years in the making, this publication restores a major section of the archives of the Sumerian city of
Iri-Saĝrig/Āl-Šarrākī
during the Third Dynasty of Ur (ca. 2012–2004 B.C.E.).

The volumes contain the transliterations of 1,159 texts now scattered over five continents in public and private collections. They represent the archival records of the office of the governor of the city and add a wide variety of texts, some types of which are entirely new, to our knowledge of the period. The texts provide significant new evidence on foreign relations with Elam, religion and cult, the Ur III royal family, the Ur III local economy and professions, and a new calendar. Volume 1 consists of an extensive overview of the archives by David I. Owen, supplemented by contributions by Hagan Brunke (rations), Douglas Frayne (history and geography), Wolfgang Heimpel (sesame cultivation), and Gonzalo Rubio and Christopher Woods (Sumerian grammar), as well as an excursus by Owen on the importance of publishing unprovenanced texts. Comprehensive indexes by Alexandra Kleinerman and extensive notes by Owen facilitate access to the extensive and often unique data in the texts presented in volume 2. A selection of copies and photos is provided in volume 2.

These volumes constitute a major addition to the evidence for the history and culture of the Third Dynasty of Ur and will be of interest to historians, anthropologists, archaeologists, and Assyriologists.
David I. Owen is Bernard and Jane Schapiro Professor Emeritus of Ancient Near Eastern and Judaic Studies at Cornell University.