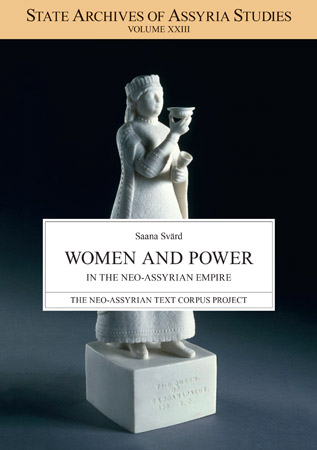 Women and Power in Neo-Assyrian Palaces
Saana Svärd
Buy
Women and Power in Neo-Assyrian Palaces
Saana Svärd
"This book makes a valuable contribution to our understanding of the role of women in the Neo-Assyrian palaces as well as the ways in which this role may be uncovered. The appendices provide a useful sourcebook for scholars interested in exploring the women of Neo-Assyria as they pertain to a royal courtly setting."
Description

Reviews

Subjects
Power in general and women's power in particular has been understood mostly in a hierarchical way in earlier research on Mesopotamian women. Hierarchical power structures were important in Mesopotamia, but other kinds of power structures existed as well. This study, which focuses on women in the palaces of the Neo-Assyrian Empire (c. 930–610 BCE), draws attention to heterarchical power relations in which women were engaged in the Neo-Assyrian palace milieu. Heterarchical power relations include power relations such as reciprocal power, resistance, and persuasion. Although earlier research has certainly been aware of women's influence in the palaces, this study makes explicit the power concepts employed in previous research and further develops them using the concept of heterarchy. The study is based on primary cuneiform sources and presents a detailed description of women in Neo-Assyrian palaces. However, it additionally shows that by applying modern theories of power to the study of ancient texts, one can gain important new insights into the dynamics of ancient society.
"This book makes a valuable contribution to our understanding of the role of women in the Neo-Assyrian palaces as well as the ways in which this role may be uncovered. The appendices provide a useful sourcebook for scholars interested in exploring the women of Neo-Assyria as they pertain to a royal courtly setting."
Also of Interest
Mailing List
Subscribe to our mailing list and be notified about new titles, journals and catalogs.