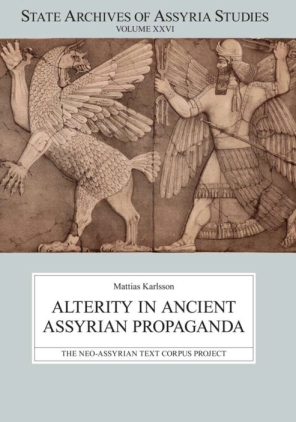 Alterity in Ancient Assyrian Propaganda
Mattias Karlsson
Buy
Alterity in Ancient Assyrian Propaganda
Mattias Karlsson
"A welcome contribution to the study of propaganda and political identity in Assyriology, and offers a good starting point for the exploration of these subjects in the vast textual records produced by the Assyrian polities."
Description

Reviews

Table of Contents

Subjects
This book is a comprehensive analysis of the image of "enemy" in Assyrian state ideology, based on royal titles attested in Assyrian documents from Old Assyrian through Neo-Assyrian times, the narratives of Assyrian royal inscriptions, and Assyrian palace art. The main focus of the study is the creation of enemy images as a timeless and universal ruling technique embodied in postcolonial concepts such as "alterity" and "the Other." The data collected by the author make it possible to make interesting comparisons between the Old, Middle, and Neo-Assyrian periods and to isolate continuities and new trends in the development of Assyrian state propaganda over a period of more than 1400 years.
"A welcome contribution to the study of propaganda and political identity in Assyriology, and offers a good starting point for the exploration of these subjects in the vast textual records produced by the Assyrian polities."
Acknowledgements
List of Illustrations
Abbreviations
IntroductionEnemies, Alterity, and Ancient Assyria
Aims, Material, and Method of the Study
An Outline of Assyrian State Ideology
Some Notes on Postcolonial Theory
Part I: The Evidence
Part II: Alterity in Assyrian Royal EpithetsOld Assyrian Sources
Middle Assyrian Sources
Early Neo-Assyrian Sources
Late Neo-Assyrian Sources
Part III: Conclusions
Bibliography
Illustrations
Indices
Also of Interest
Mailing List
Subscribe to our mailing list and be notified about new titles, journals and catalogs.