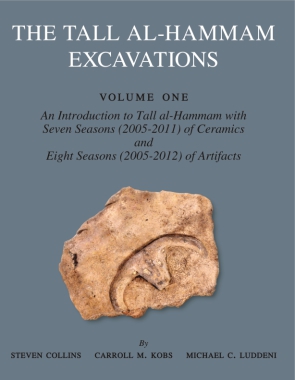 The Tall al-Hammam Excavations, Volume 1
An Introduction to Tall al-Hammam: Seven Seasons (2005–2011) of Ceramics and Eight Seasons (2005–2012) of Artifacts from Tall al-Hammam
Steven Collins, Carroll M. Kobs, and Michael C. Luddeni
BUY
The Tall al-Hammam Excavations, Volume 1
An Introduction to Tall al-Hammam: Seven Seasons (2005–2011) of Ceramics and Eight Seasons (2005–2012) of Artifacts from Tall al-Hammam
Steven Collins, Carroll M. Kobs, and Michael C. Luddeni
"For anyone looking for an introduction to the site of Tall al-Hammam, this volume has value. The color illustrations, maps, and photographs are outstanding."
Description

Reviews

Table of Contents
The Tall al-Hamman Excavations, Volume 1 is the first in a series of reports on the Tall al-Hammam Excavation Project, directed by Steven Collins of Trinity Southwest University and assisted by Gary Byers and Carroll Kobs, assistant dig directors. Co-author Mike Luddeni has been dig photographer since the inception of the Project. Excavations began in Jordan in 2005–2006 and have continued annually, without break, up to the present. This volume presents an overview of the site, with a period-by-period overview of Tall al-Hammam and its relationship to other sites in the vicinity in the Jordan Valley. It also includes the pottery profiles and assemblages and artifacts discovered in the course of these seasons. Future volumes will include in-depth excavation reports for specific areas of the Tall.
"For anyone looking for an introduction to the site of Tall al-Hammam, this volume has value. The color illustrations, maps, and photographs are outstanding."
Part One: Orientation and Methodology
1. Introduction to Tall al-Hammam
2. Archaeological Methodology
Part Two: Ceramics
3. Ceramic Procedures and Analysis at Tall al-Hammam
4. Chalcolithic Period Tall al-Hammam
5. Early Bronze Period Tall al-Hammam
6. Intermediate Bronze Age Tall al-Hammam
7. Middle Bronze Age Tall al-Hammam
8. Iron Age 2–3 Tall al-Hammam
9. Tall al-Hammam's Necropolis and Megalithic Field
Part Three: Objects
10. Tall al-Hammam Objects
Part Four: Bibliography
Mailing List
Subscribe to our mailing list and be notified about new titles, journals and catalogs.