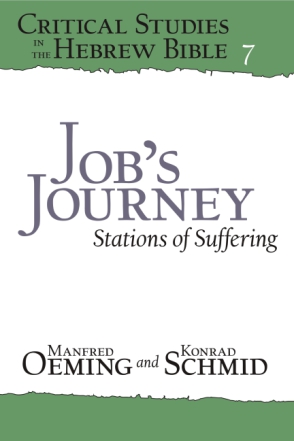 Job's Journey
Stations of Suffering
Manfred Oeming and Konrad Schmid
Buy
Job's Journey
Stations of Suffering
Manfred Oeming and Konrad Schmid
From the Introduction: "The book of Job does not promote silence about God because we cannot say anything about him. Otherwise, this book would never have been written. But the book of Job does bid farewell to certain types of theology—and we need not bemoan their loss: theology as the wisdom of the world projected into heaven; theology as pious reflection on a higher being that then mistakes traditional or innovative ideas about God entirely for God himself; theology that purports to communicate direct revelation from God. The book of Job distrusts and disbelieves all this to its core. Instead, it states clearly that this is not God; these are only graven images. Such fundamental criticism of all pseudo-theology is—and here we can only agree with the book of Job—not the end but the very beginning of theology."
Description

Table of Contents
From the Introduction: "The book of Job does not promote silence about God because we cannot say anything about him. Otherwise, this book would never have been written. But the book of Job does bid farewell to certain types of theology—and we need not bemoan their loss: theology as the wisdom of the world projected into heaven; theology as pious reflection on a higher being that then mistakes traditional or innovative ideas about God entirely for God himself; theology that purports to communicate direct revelation from God. The book of Job distrusts and disbelieves all this to its core. Instead, it states clearly that this is not God; these are only graven images. Such fundamental criticism of all pseudo-theology is—and here we can only agree with the book of Job—not the end but the very beginning of theology."
This book is not an attempt to cover every angle and answer every question that we have about the book of Job. Instead, Konrad Schmid, in the introductory chapter, provides us with an analysis of the structure of the book that helps us to see the book as a whole. And Manfred Oeming, in the chapters that follow, provides clear snapshots of various elements of the book, including a summary of the dialogues, Job's monologue, Elihu's speech ("the Anti-Monologue"), Job's encounter with God, and the destination (of Job's journey). Between them, the two authors provide an accessible scholarly and theological approach to the book that is richly satisfying.
Foreword
Chapter 1. The Prologue to the Book of Job and the Problem of Job (Konrad Schmid)
Chapter 2. The Dialogues with Job's Wife and Friends (Manfred Oeming)
Chapter 3. Job's Monologue: A Journey Inward (Manfred Oeming)
Chapter 4. Elihu's Last Resort: The Antimonologue (Manfred Oeming)
Chapter 5. The Encounter with God (Manfred Oeming)
Chapter 6. The Destination (Manfred Oeming?)
Indexes
Index of Authors
Index of Scripture
Mailing List
Subscribe to our mailing list and be notified about new titles, journals and catalogs.