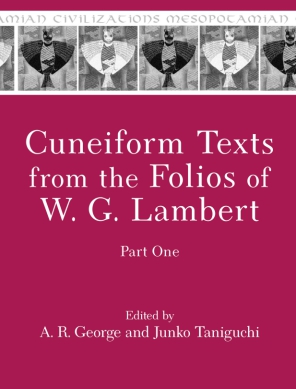 Cuneiform Texts from the Folios of W. G. Lambert, Part One
Edited by A. R. George and Junko Taniguchi
Buy
Cuneiform Texts from the Folios of W. G. Lambert, Part One
Edited by A. R. George and Junko Taniguchi
"From this store, Assyriologists should be able to build on Lambert's legacy, unveiling greater knowledge of Babylonia, thanks to the editors' selfless labours."
Description

Reviews

Bio

Table of Contents
W. G. Lambert's line drawings of cuneiform tablets from the British Museum, together with his meticulous editions of their contents, form a contribution to Assyriology unrivaled in his generation. Upon his death in 2011, Lambert bequeathed his academic legacy to A. R. George, who discovered among its contents approximately 1,400 unpublished pencil drawings. He and Junko Taniguchi took over the task of converting the drawings into images suitable for publication.
The first of two planned volumes, this book features drawings of 329 cuneiform tablets found in Lambert's academic papers. Written by Babylonian and Assyrian scribes between 2500 and 35 BC, the texts in this volume are organized by genre and provided with a descriptive catalogue and indexes. The contents include commemorative and votive inscriptions, late copies of royal inscriptions and royal correspondence, historical and historical-literary texts, Sumerian literature, Akkadian-language compositions of mythological and "epic" content, Babylonian and Assyrian hymns, prayers and praise poetry, incantations, wisdom literature, and fragments of unidentified literary works.
The mass of unpublished cuneiform tablets in museums remains a largely unexplored resource with enormous capacity to illuminate all aspects of life in ancient Mesopotamia. This collection constitutes an important milestone on the road to a fuller comprehension of the written legacy of the ancient Babylonians.
"From this store, Assyriologists should be able to build on Lambert's legacy, unveiling greater knowledge of Babylonia, thanks to the editors' selfless labours."
"This monograph is a testimony to Lambert's vast knowledge and scholarship."
A. R. George is Professor of Babylonian at the School of Oriental and African Studies, University of London.
Junko Taniguchi is an independent Assyriologist based in London.
Preface and Acknowledgments
List of Abbreviations
Catalogue of Texts
Index of Museum Numbers
Index of Texts
References
Cuneiform Texts
Mailing List
Subscribe to our mailing list and be notified about new titles, journals and catalogs.