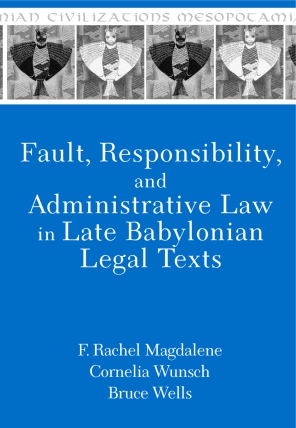 Fault, Responsibility, and Administrative Law in Late Babylonian Legal Texts
F. Rachel Magdalene, Cornelia Wunsch, and Bruce Wells
Buy
Fault, Responsibility, and Administrative Law in Late Babylonian Legal Texts
F. Rachel Magdalene, Cornelia Wunsch, and Bruce Wells
"It is an important building block for a better understanding of the social conditions in Babylonia in the 6th and 5th centuries B.C. and at the same time enriches the corresponding legal-historical research."
Description

Reviews

Bio
This book presents a reassessment of the governmental systems of the Late Babylonian period—specifically those of the Neo-Babylonian and early Persian empires—and provides evidence demonstrating that these are among the first to have developed an early form of administrative law.
The present study revolves around a particular expression that, in its most common form, reads ḫīṭu ša šarri išaddad and can be translated as "he will be guilty (of an offense) against the king." The authors analyze ninety-six documents, thirty-two of which have not been previously published, discussing each text in detail, including the syntax of this clause and its legal consequences, which involve the delegation of responsibility in an administrative context. Placing these documents in their historical and institutional contexts, and drawing from the theories of Max Weber and S. N. Eisenstadt, the authors aim to show that the administrative bureaucracy underlying these documents was a more complex, systematized, and rational system than has previously been recognized.
Accompanied by extensive indexes, as well as transcriptions and translations of each text analyzed here, this book breaks new ground in the study of ancient legal systems.
"It is an important building block for a better understanding of the social conditions in Babylonia in the 6th and 5th centuries B.C. and at the same time enriches the corresponding legal-historical research."
F. Rachel Magdalene is the author of On the Scales of Righteousness: Neo-Babylonian Trial Law and the Book of Job.
Cornelia Wunsch is Research Associate at the School of Oriental and African Studies, University of London. Her most recent book, CUSAS 28: Documents of Judean Exiles and West Semites in Babylonia in the Collection of David Sofer, is coauthored with Laurie Pearce and published Eisenbrauns.
Bruce Wells is Associate Professor of Middle Eastern Studies at the University of Texas at Austin. He is the author of The Law of Testimony in the Pentateuchal Codes and coeditor, along with F. Rachel Magdalene, of Law from the Tigris to the Tiber: The Writings of Raymond Westbrook, the latter also published by Eisenbrauns.
Mailing List
Subscribe to our mailing list and be notified about new titles, journals and catalogs.