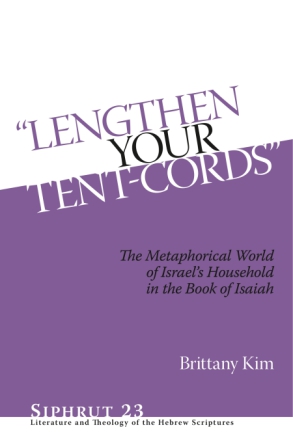 "Lengthen Your Tent-Cords"
The Metaphorical World of Israel's Household in the Book of Isaiah
Brittany Kim
BUY
"Lengthen Your Tent-Cords"
The Metaphorical World of Israel's Household in the Book of Isaiah
Brittany Kim
"This study contains well-written and scholarly honest exegetical discussions that might be of help for any scholar interested in these metaphors in the book of Isaiah. The use of recent publications in the detailed textual investigations is impressive. Several times this study opens up new vistas."
Description

Reviews

Bio

Table of Contents
The last few decades have seen a gradual shift in Isaianic studies as scholars have begun to give greater attention to the book's literary features rather than focusing predominantly on the question of its sources. Brittany Kim's study takes a literary approach, exploring how the book portrays Israel and its capital city using five metaphors that arise from the realm of household relationships: sons/children, daughter(s), mother, wife, and servant(s).
Drawing selectively on the resources of metaphor studies and rhetorical criticism, Kim examines each metaphor separately to determine its rhetorical import and, if possible, to trace its development throughout the book. From the beginning of Isaiah, in which Zion appears as a vulnerable but promiscuous daughter in need of both paternal protection and discipline, through the book's end, when her marital relationship has been restored and Zion has been transformed into a radiant and caring mother, Kim follows the thread of these five themes, showing ultimately how and why only those among yhwh's children who willingly take on the role of servant experience the joy and delight of Zion's maternal care.
Pulling together insights from individual studies, "Lengthen Your Tent-Cords" draws connections and highlights contrasts among the various metaphors. Kim concludes by examining how Israel and Zion fit into YHWH's royal household.
"This study contains well-written and scholarly honest exegetical discussions that might be of help for any scholar interested in these metaphors in the book of Isaiah. The use of recent publications in the detailed textual investigations is impressive. Several times this study opens up new vistas."
"Lengthen Your Tent-Cords" is a stimulating study of the household metaphor in Isaiah, especially in its attempt to integrate the household metaphor into a coherent whole."
Brittany Kim is Adjunct Professor of Religion at Bethel Seminary.
Introduction
The People of Israel as Sons/Children
Zion and the People as Daughter(s)
Zion as Mother and Wife
Israel, an Unnamed Representative, Zion, and the Faithful People as YHWH's Servants
Conclusion: Integrating the Metaphors—A Portrait of the People of YHWH
Appendix 1: Distribution Charts
Appendix 2: Overview of Passages
Appendix 3: Texts with Implied Metaphors
Bibliography
Indexes
Mailing List
Subscribe to our mailing list and be notified about new titles, journals and catalogs.