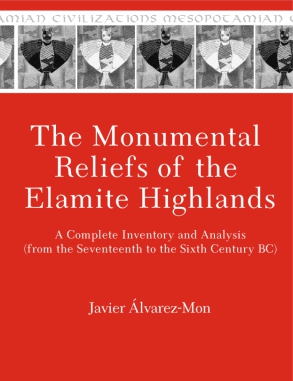 The Monumental Reliefs of the Elamite Highlands
A Complete Inventory and Analysis (from the Seventeenth to the Sixth Century BC)
Javier Álvarez-Mon
Buy
The Monumental Reliefs of the Elamite Highlands
A Complete Inventory and Analysis (from the Seventeenth to the Sixth Century BC)
Javier Álvarez-Mon
"Since the reliefs have been examined from every angle in every possible light to generate minutely detailed line-drawings, which are supported by a rich selection of colour photographs, the book is as much an exercise in cultural heritage preservation as it is an artistic and cultural analysis. Above all, it highlights the immense heritage value of the reliefs and the imperative of immediate action to ensure their preservation."
Description

Reviews

Bio
The Monumental Reliefs of the Elamite Highlands
documents and analyzes for the first time a corpus of eighteen monumental highland reliefs from the Elamite civilization in ancient Iran, which—hitherto preserved by their remote location and anonymous existence—have recently become imperiled by an influx of tourists and the development of the surrounding landscapes. With this book, Javier Álvarez-Mon aims to safeguard this important part of Iran's cultural heritage.
The eighteen reliefs presented in this volume are spread across the valley of Izeh/Malamir (Xong-e Azdhar, Shah Savar, Shekaft-e Salman, and Kul-e Farah), the Ghale Tol plain (Qal-e Tul), the Mamasani Fahliyan river region (Kurangun), and the Marvdasht plain (Naqsh-e Rustam). In his analysis of these reliefs, Álvarez-Mon draws from the complementary disciplines of art history and archaeology, giving equal weight to the archaeological context of these artifacts and traditional methods of artistic analysis in order to determine the nature and significance of each artifact's form and theme. At the same time, the book's dual emphases on ritual-religious and aesthetic-ecological phenomena respond to the contemporary challenges of the dissociation of human existence from nature and the commodification of the environment on an unsustainable scale, presenting the preservation of this remarkable corpus of monumental art as a matter of urgency.
Richly illustrated with hundreds of color photographs and line drawings, The Monumental Reliefs of the Elamite Highlands is sure to become an invaluable reference to scholars who study the Elamite and other ancient civilizations.
"Since the reliefs have been examined from every angle in every possible light to generate minutely detailed line-drawings, which are supported by a rich selection of colour photographs, the book is as much an exercise in cultural heritage preservation as it is an artistic and cultural analysis. Above all, it highlights the immense heritage value of the reliefs and the imperative of immediate action to ensure their preservation."
Javier Álvarez-Mon is Associate Professor of Near Eastern Archaeology and Art at Macquarie University in Australia.
Mailing List
Subscribe to our mailing list and be notified about new titles, journals and catalogs.