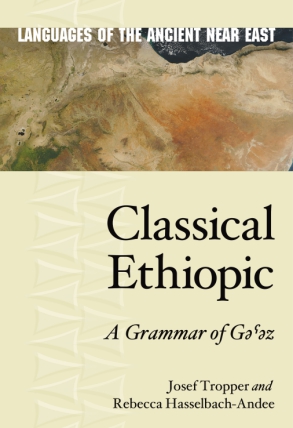 Classical Ethiopic
A Grammar of Gəˁəz
Josef Tropper and Rebecca Hasselbach-Andee
Buy
Classical Ethiopic
A Grammar of Gəˁəz
Josef Tropper and Rebecca Hasselbach-Andee
"For almost two decades, Josef Tropper's Altäthiopisch has been the standard grammar for Gəˁəz. This English translation by Rebecca Hasselbach-Andee is even more useful thanks to the addition of the Ethiopic script throughout. For students and scholars alike, Classical Ethiopic is the best grammar of Gəˁəz available in any language."
Description

Reviews

Bio

Table of Contents

Sample Chapters
Upon its publication in 2002, Josef Tropper's
Altäthiopisch: Grammatik des
Gəˁəz
mit Übungstexten und Glossar
was quickly recognized as the best modern grammar of Classical Ethiopic in any language. Now Eisenbrauns makes Tropper's grammar available for the first time in English, in this revised and expanded edition by Josef Tropper and Rebecca Hasselbach-Andee.
Gəˁəz literature is diverse and of major importance for the study of early Christianity, Judaism, and the history of eastern Africa. The language of this rich literature, however, has been difficult to access until now. Designed to help language learners acquire competency with the script from the start, Classical Ethiopic provides a comprehensive treatment of Gəˁəz grammar, with detailed chapters on the language's writing system, phonology, morphology, morphosyntax, and syntax. Numerous example sentences illustrate the grammatical concepts discussed, and each example is presented in Ethiopic script, transliteration, and English translation. The grammar concludes with an appendix presenting sample texts to be used as exercises, an English-Gəˁəz glossary, and an updated bibliography that takes into account the developments that have occurred in the study of Gəˁəz in the nearly two decades since Tropper's original publication.
Appropriate for the classroom and for independent study, Classical Ethiopic is sure to become the standard reference in English for the study of the language.
"For almost two decades, Josef Tropper's Altäthiopisch has been the standard grammar for Gəˁəz. This English translation by Rebecca Hasselbach-Andee is even more useful thanks to the addition of the Ethiopic script throughout. For students and scholars alike, Classical Ethiopic is the best grammar of Gəˁəz available in any language."
"For years now the reviewer has been tutoring students using Tropper's Alt thiopisch as a reference grammar alongside T. O. Lambdin's Introduction to Classical Ethiopic (Geʿez) (Missoula 1978; or its 2002 Italian adaptation by O. Raineri), whose step-by-step presentation of the grammar and copious graded exercises make teaching and learning Classical Ethiopic a pleasant task. This translation and adaptation by Hasselbach-Andee will equally serve as a solid reference work."
"A useful introductory grammar to Ethiopic."
Josef Tropper is Professor in the Faculty of Theology at the Humboldt-Universität zu Berlin. He is the author of Altäthiopisch: Grammatik des Geʽez mit Übungstexten und Glossar and Ugaritische Grammatik: Zweite, stark überarbeitete und erweiterte Auflage.
Rebecca Hasselbach-Andee is Associate Professor of Comparative Semitics at The Oriental Institute, University of Chicago. She is the author of Sargonic Akkadian: A Historical and Comparative Study of the Syllabic Texts and Case in Semitic: Roles, Relations, and Reconstruction.
Preface
1. Introduction
1.1 General Remarks
1.2 Literature
1.3 Linguistic Classification
1.4 Other Ethiopian Languages
1.5 Grammars
1.6 Dictionaries
1.7 General Studies
2. Writing and Orthography
2.1 General Introduction
2.2 List of Signs
2.3 Comments on the Writing System
2.4 Basic Principles of Handwriting
2.5 Numerical Signs
2.6 Word Dividers, Punctuation, and Text-Arrangement
3. Phonology
3.1 Consonants
3.2 Vowels
3.3 Lengthening (Germination) of Phonemes
3.4 Syllable Structure
3.5 Word Stress
3.6 Consonantal Sound Changes
3.7 Vocalic Sound Changes
3.8 Sound Changes Involving Semivowels
4. Morphology
4.1 Pronouns
4.2 The Noun
4.3 Numerals
4.4 The Verb
4.5 Particles
5. Morphosyntax
5.1 Syntax of Pronouns
5.2 Syntax of the Noun
5.3 The Syntax of Numerals
5.4 Syntax of the Verb
5.5 The Functions of Verbal Nouns and Verbal Adjectives
5.6 Expression of Distributive Connotations: በበ babba, ለለ lalla, ዘዘ– zazza–, and others
6. Syntax
6.1 The Nominal Clause
6.2 The Verbal Clause
6.3 Casus Pendens
6.4 Cleft Sentences
6.5 Subordinate Clauses
Abbreviations and Bibliography
Abbreviations
Abbreviations of Biblical Books and Other Literary Works
Bibliographical Abbreviations
Bibliography
Appendix A: Sample Texts in Original Script and Transliteration
Appendix B: List of Signs
Appendix C: Main Paradigms
Appendix D: Glossary
Download a PDF sample chapter here: Chapter1
Mailing List
Subscribe to our mailing list and be notified about new titles, journals and catalogs.