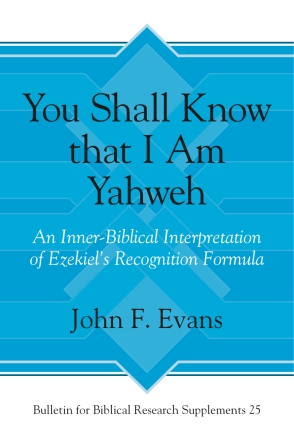 You Shall Know that I Am Yahweh
An Inner-Biblical Interpretation of Ezekiel's Recognition Formula
John F. Evans
Buy
You Shall Know that I Am Yahweh
An Inner-Biblical Interpretation of Ezekiel's Recognition Formula
John F. Evans
"Evans's timely research presents a solid, systematic, and comprehensive analysis of the [recognition formula] in Ezekiel. Biblical scholars and Ezekiel scholars in particular will find this book useful for examining biblical formulas, inner-biblical exegesis, and evaluating Ezekiel's theological message."
Description

Reviews

Bio

Table of Contents
The recognition formula, "you/they shall know that I am Yahweh," is repeated more than seventy times in the book of Ezekiel. And yet, surprisingly, this refrain has not been analyzed in detail in recent research. In this study, John F. Evans attempts to uncover the literary and theological intent of the recognition formula in Ezekiel by comparing it with other instances of the phrase found elsewhere in the Bible.
Complementing his analysis of the recognition formula in Ezekiel, Evans examines its use in Deuteronomy, 1 Kings, Isaiah, Joel, and, in particular, Exodus. In addition to some strong continuities between the formula in Exodus and Ezekiel, he finds a jarring disjunction: in Ezekiel the prophecy repeatedly declares that Israel "shall know that I am Yahweh" in judgment, while elsewhere in Scripture the formula typically sounds a positive note when spoken to God's covenant people.
Recent years have witnessed a renewed interest in the book of Ezekiel, especially as a book that reflects the experience of Jews in exile as parallel to their captivity in Egypt prior to the exodus. Biblical scholars and students interested in the theology of exile and the theological reaction to the destruction of the Judean state in 586 BCE will find this book enlightening and useful.
"Evans's timely research presents a solid, systematic, and comprehensive analysis of the [recognition formula] in Ezekiel. Biblical scholars and Ezekiel scholars in particular will find this book useful for examining biblical formulas, inner-biblical exegesis, and evaluating Ezekiel's theological message."
"The book provides a useful examination of issues related to the recognition formula in its various forms and contexts. The charts in chapter 3 are particularly clear and helpful. Evans addresses a wide range of questions that confront any effort to reach a definitive conclusion as to the meaning and role of the recognition formula in Ezekiel: Why is the formula used so much more often in Ezekiel than elsewhere? What exactly does it mean to "know that [Yahweh is] Yahweh"? Does this knowledge differ, depending on who (Israel or the nations) comes to know it? Does the knowledge differ depending on how one gains it (by being blessed or by being killed)? Finally, how ought we to construe divergences between uses of the recognition formula in Exodus and in Ezekiel?"
"This welcome contribution to Ezekiel studies presents as a comprehensive study of the [Recognition Formula] in Ezekiel. The main argument is highly stimulating and the consequence of these ideas produces a substantial theological conclusion."
"The book is notably helpful in the way major methodological issues in interpretation are covered and in the provision of useful summaries of earlier scholarship on Ezekiel. At a time when too many have argued for the late dating of texts in the Old Testament, especially P, Evans's work offers a refreshing corrective in the way he reads Ezekiel in the light of Exodus."
John F. Evans is Pastor of Covenant Presbyterian Church in Sun City West, Arizona. He is the author of A Guide to Biblical Commentaries and Reference Works, 10th edition.
List of Illustrations
Acknowledgments and Preface
List of Abbreviations
Introduction
Chapter 1. The Law and Prophets in Historical Criticism and Strategies for Approaching the Formula
Chapter 2. Past Scholarship on Ezekiel's Formula
Chapter 3. Details of the Formula's Usage in Ezekiel
Chapter 4. The Origin of Ezekiel's Formula and Questions of Inner-Biblical Exegesis
Chapter 5. The Sociohistorical and Religious Context of Ezekiel's Oracles
Chapter 6. Intertextuality and Theological Interpretation of the Formula
Chapter 7. Conclusion: Defining the Rhetoric and Theological Meaning of Ezekiel's Formula
Bibliography
Index of Authors
Index of Scripture
Mailing List
Subscribe to our mailing list and be notified about new titles, journals and catalogs.