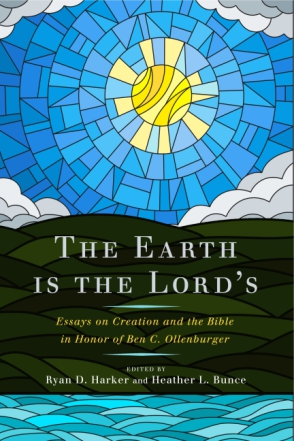 The Earth Is the Lord's
Essays on Creation and the Bible in Honor of Ben C. Ollenburger
Edited by Ryan D. Harker and Heather Bunce
BUY
The Earth Is the Lord's
Essays on Creation and the Bible in Honor of Ben C. Ollenburger
Edited by Ryan D. Harker and Heather Bunce
"The Earth Is the Lord's brings much to the contemporary Christian conversation surrounding the relationship between God, humanity, and creation."
Description

Reviews

Bio
Compiled in honor of esteemed teacher and scholar Ben. C. Ollenburger,
The Earth Is the Lord's
brings together a diverse group of scholars with specializations across the Christian canon to address creation in the Bible, God as Creator, and God's relationship with creation.
The essays in this volume cover topics ranging from creation theology, the symbolic devastation and renewal of land, cycles of creation, creation and peace, and the covenant as the purpose of creation. Moreover, while previous studies on this topic have focused almost exclusively on the Hebrew Bible, the current volume gives equal weight to the New Testament as a vital source for approaching the Bible's theologies of creation.
The Earth Is the Lord's advances the scholarly and ecclesial conversations surrounding creation and will be an indispensable resource for biblical studies scholars, seminary students, and Christian congregational leaders and teachers.
In addition to the editors, the contributors are Walter Brueggemann, Andrea Dalton Saner, Theodore Hiebert, Loren L. Johns, Safwat Marzouk, David Rensberger, Darrin W. Snyder Belousek, Willard Swartley, Patricia K. Tull, Thomas R. Yoder Neufeld, and Gordon Zerbe.
"The Earth Is the Lord's brings much to the contemporary Christian conversation surrounding the relationship between God, humanity, and creation."
Ryan D. Harker is an independent scholar and Pastor of West Clinton Mennonite Church in Wauseon, Ohio. He is coeditor of Rooted and Grounded: Essays on Land and Christian Discipleship.
Heather L. Bunce is Professor of Hebrew and Director of Library Services at Great Lakes Christian College in Lansing, Michigan. She is coeditor of Real Christian Fellowship.
Mailing List
Subscribe to our mailing list and be notified about new titles, journals and catalogs.