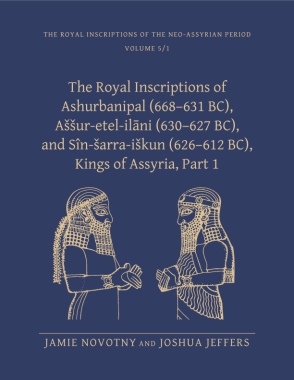 The Royal Inscriptions of Ashurbanipal (668–631 BC), Aššur-etel-ilāni (630–627 BC), and Sîn-šarra-iškun (626–612 BC), Kings of Assyria, Part 1
Jamie Novotny and Joshua Jeffers
Buy
The Royal Inscriptions of Ashurbanipal (668–631 BC), Aššur-etel-ilāni (630–627 BC), and Sîn-šarra-iškun (626–612 BC), Kings of Assyria, Part 1
Jamie Novotny and Joshua Jeffers
"The publication of RINAP 5/1 will without doubt be fundamental for future research on the reign of Ashurbanipal. The entire RINAP series has already greatly facilitated Assyriological research and the physical publication of RINAP 5/2, whose content is largely already available on ORACC, is eagerly awaited. The reviewer wishes to thank and congratulate the authors of RINAP 5/1 for their excellent and diligent work."
Description

Reviews

Bio
In this book, Jamie Novotny and Joshua Jeffers provide updated, reliable editions of seventy-one historical inscriptions of Ashurbanipal, including all historical inscriptions on clay prisms, clay cylinders, wall slabs, and other stone objects from Nineveh, Assur, and Kalhu. Each text edition is accompanied by an English translation, a catalog of all exemplars, a comprehensive bibliography, and commentary containing notes and technical information. This volume also contains a general introduction to the reign of Ashurbanipal, his military campaigns, the corpus of inscriptions, previous studies, and chronology; translations of the relevant passages of several Mesopotamian chronicles and king lists; photographs of objects inscribed with texts of Ashurbanipal; indexes of museum and excavation numbers, selected publications, and proper names.
This reference work represents a significant revision of previously published collections and also makes available a number of unpublished inscriptions. It will be invaluable to specialists in royal inscriptions and will be of interest to all scholars of the history and archaeology of the Ancient Near East.
"The publication of RINAP 5/1 will without doubt be fundamental for future research on the reign of Ashurbanipal. The entire RINAP series has already greatly facilitated Assyriological research and the physical publication of RINAP 5/2, whose content is largely already available on ORACC, is eagerly awaited. The reviewer wishes to thank and congratulate the authors of RINAP 5/1 for their excellent and diligent work."
"RINAP 5/1 is a solid reference tool for one of the largest and most diverse corpora of royal inscriptions from the first millennium BC. With its comprehensive introduction, the volume serves as an excellent point of departure for readers who are about to start their in-depth exploration into the crucial period not only of the Neo-Assyrian empire but also of the broader history of Mesopotamian civilization in the first millennium. For those already familiar with the corpus, RINAP 5/1 serves as a reminder of the scale of the source material studied by modern scholars for the past 150 years."
"This new volume of Ashurbanipal's inscriptions, with its ordered, revised, and improved comprehensive presentation of the texts, will ease the work of philologists and historians who deal with this crucial documentation and the placement of royal inscriptions within a complex system of communication with which various concordances are available."
"This book is a precious tool for any scholar interested in the historical context of the latter southern kingdom."
"[A] splendid volume for studying the reign of Ashurbanipal, one of the major Assyrian rulers of antiquity."
Jamie Novotny is a tenured researcher at Ludwig-Maximilians-Universität München, the codirector of the Munich Open-access Cuneiform Corpus Initiative, and the editor-in-chief of the Royal Inscriptions of the Neo-Babylonian Empire Project
Joshua Jeffers is a research specialist for the Royal Inscriptions of the Neo-Assyrian Period Project.
Mailing List
Subscribe to our mailing list and be notified about new titles, journals and catalogs.