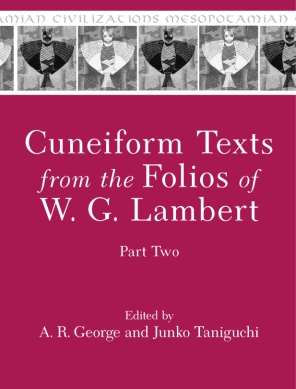 Cuneiform Texts from the Folios of W. G. Lambert, Part Two
Prepared for publication and edited by A. R. George and Junko Taniguchi
Buy
Cuneiform Texts from the Folios of W. G. Lambert, Part Two
Prepared for publication and edited by A. R. George and Junko Taniguchi
"From this store, Assyriologists should be able to build on Lambert's legacy, unveiling greater knowledge of Babylonia, thanks to the editors' selfless labours."
Description

Reviews

Bio

Table of Contents

Sample Chapters
This book publishes 323 handcopies of cuneiform tablets found in the academic papers of W. G. Lambert (1926–2011), one of the foremost Assyriologists of the twentieth century. Prepared by A. R. George and Junko Taniguchi, it completes a two-part edition of Lambert's previously unpublished handcopies.
Written by Babylonian and Assyrian scribes in ancient Mesopotamia, the texts collected here are organized by genre and presented with a descriptive catalogue and indexes. The contents include omen literature, divinatory rituals, religious texts, a scribal parody of Babylonian scholarship, theological and religious texts, lexical lists, god lists, and a small group of miscellaneous texts of various genres. The tablets are mainly from the British Museum, but some come from museums in Baghdad, Berlin, Chicago, Geneva, Istanbul, Jerusalem, New Haven, Oxford, Paris, Philadelphia, Tokyo, Toronto, and Washington. In addition, there are copies of eight tablets whose current whereabouts are unknown.
This third collection of Lambert's handcopies published by Eisenbrauns—following
Babylonian Creation Myths
and
Cuneiform Texts from the Folios of W. G. Lambert, Part One
—is a crucial part of the intellectual history of the field of Assyriology. In addition, many of these texts are published herein for the first time, making them a valuable and important resource for further study.
"From this store, Assyriologists should be able to build on Lambert's legacy, unveiling greater knowledge of Babylonia, thanks to the editors' selfless labours."
A. R. George is Professor of Babylonian at the School of Oriental and African Studies, University of London.
Junko Taniguchi is an independent Assyriologist based in London.
Preface and Acknowledgements
List of Abbreviations
Catalogue of Texts
Index of Museum Numbers
Index of Texts
References
Cuneiform Texts
Download a PDF sample chapter here: Preface
Mailing List
Subscribe to our mailing list and be notified about new titles, journals and catalogs.