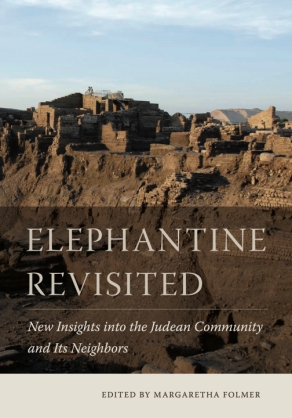 Elephantine Revisited
New Insights into the Judean Community and Its Neighbors
Edited by Margaretha Folmer
Buy
Elephantine Revisited
New Insights into the Judean Community and Its Neighbors
Edited by Margaretha Folmer
"[An] exciting collection of essays. . . . It is impossible to do justice to the wealth of insights presented. . . ."
Media

Description

Reviews

Bio

Table of Contents

Sample Chapters
Watch "Mr. Elephantine: An Interview with Bezalel Porten" by Margaretha Folmer:
The Judean community at Elephantine has long fascinated historians of the Persian period. This book, with its stellar assemblage of important scholarly voices, provides substantive new insights and approaches that will advance the study of this well-known but not entirely understood community from fifth-century BCE Egypt.
Since Bezalel Porten's pioneering Archives from Elephantine, published in 1968, the discourse on the subject of the community of Elephantine during the Persian period has changed considerably, due to new data from excavations, the discovery and publication of previously unknown texts, and original scholarly insights and avenues of inquiry. Running the gamut from archaeological to linguistic investigations and encompassing legal, literary, religious, and other aspects of life in this Judean community, this volume stands at a crossroads of research that extends from Hebrew Bible studies to the history of early Jewish communities. It also features fourteen new Aramaic ostraca from Aswan. The volume will appeal to students and scholars of the Hebrew Bible and ancient Judaism, as well as to a wider audience of Egyptologists, Semitists, and specialists in ancient Near Eastern studies.
In addition to the editor, the contributors to this volume include Annalisa Azzoni, Bob Becking, Alejandro F. Botta, Lester L. Grabbe, Ingo Kottsieper, Reinhard G. Kratz, André Lemaire, Hélène Nutkowicz, Beatrice von Pilgrim, Cornelius von Pilgrim, Bezalel Porten, Ada Yardeni, and Ran Zadok. Moreover, a video recording of an interview conducted with Porten on his long career in Elephantine studies accompanies the book through a link on the Eisenbrauns website.
"[An] exciting collection of essays. . . . It is impossible to do justice to the wealth of insights presented. . . ."
Margaretha Folmer is Lecturer in Aramaic at Leiden University and Associate Professor of Hebrew at Vrije Universiteit Amsterdam.
List of Illustrations
                                      Preface Margaretha Folmer
List of Abbreviations                                       Chapter 1. On the Archaeological Background of the Aramaic Papyri from Elephantine in the Light of Recent Fieldwork
Cornelius von Pilgrim
Chapter 2. Family Life and Law at Elephantine
Annalisa Azzoni
Chapter 3. Some Aspects of Family Bonds in the Judean Community of Elephantine
Hélène Nutkowicz
Chapter 4. Law in Elephantine: Crimes and Misdemeanors
Alejandro F. Botta
Chapter 5. The Ostraca of Elephantine: A Further Light on the Judeans in Elephantine
André Lemaire
Chapter 6. Elephantine and Ezra–Nehemiah
Lester L. Grabbe
Chapter 7. Aḥiqar and Bisitun: The Literature of the Judeans at Elephantine
Reinhard G. Kratz
Chapter 8. On Aḥiqar and the Bible
Ingo Kottsieper
Chapter 9. The Identity of the People at Elephantine
Bob Becking
Chapter 10. The Contribution of Elephantine Aramaic to Aramaic Studies
Margaretha Folmer
Chapter 11. Personal Names in New Aramaic Ostraca from Syene
Bezalel Porten and André Lemaire, with contributions by Beatrice von Pilgrim and Ran Zadok and handcopies by Ada Yardeni ז״ל
List of Contributors
Ancient Source Index
Subject Index
Download a PDF sample chapter here: Chapter1
Also of Interest
Mailing List
Subscribe to our mailing list and be notified about new titles, journals and catalogs.