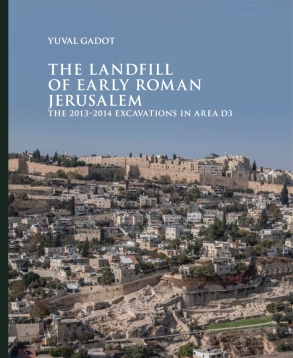 The Landfill of Early Roman Jerusalem
The 2013‒2014 Excavations in Area D3
Yuval Gadot
Buy
The Landfill of Early Roman Jerusalem
The 2013‒2014 Excavations in Area D3
Yuval Gadot
"The studies in this volume provide a fascinating window into Early Roman Jerusalem by presenting the results of the meticulous excavation of a massive garbage dump on the southeastern slope of the City of David. The comprehensive and detailed analyses of the various categories of finds—including pottery, coins, stone vessels, glass, animal and fish bones, and wood—indicate the existence of an organized system of rubbish disposal, much of which appears to represent ordinary household waste. These studies therefore add a valuable new dimension to our understanding of daily life in late Second Temple Jerusalem."
Description

Reviews

Bio

Table of Contents

Sample Chapters
This is the story of the landfill that operated in Jerusalem during the first century CE and served as its garbage
dump during the ca. 50-year period that followed Jesus's crucifixion through to the period that led to the great revolt of the Jews just prior to the city's destruction.
The book presents an extensive investigation of hundreds of thousands of items that were systematically excavated from the thick layers of landfill. It brings together experts who conducted in-depth studies of every sort of material discarded as refuse—ceramic, metal, glass, bone, wood, and more. This research presents an amazing and tantalizing picture of daily life in ancient Jerusalem, and how life was shaped and regulated by strict behavioral rules (
halacha
). The book also explores why garbage was collected in Jerusalem in so strict a manner and why the landfill operated for only about 50 years. Half a century of garbage from Early Roman–period Jerusalem provides an abundance of new data and new insights into the ideological choices and new religious concepts emerging and developing among those living in Jerusalem at this critical moment. It is an eye-opener for archaeologists, historians, anthropologists, and theologians, as well as for the general reader.
"The studies in this volume provide a fascinating window into Early Roman Jerusalem by presenting the results of the meticulous excavation of a massive garbage dump on the southeastern slope of the City of David. The comprehensive and detailed analyses of the various categories of finds—including pottery, coins, stone vessels, glass, animal and fish bones, and wood—indicate the existence of an organized system of rubbish disposal, much of which appears to represent ordinary household waste. These studies therefore add a valuable new dimension to our understanding of daily life in late Second Temple Jerusalem."
"This book is a must read for everyone interested in the up-to-date topic of archaeo-garbology. Gadot and his team vividly demonstrate why ancient refuse is a strong proxy for identifying societal changes in the urban domain of Jerusalem during Roman times. This synthesis is a true goldmine of quantitative data that introduces us to the repertoire of vessels and the diet of the people in this large metropolis temple-city during one of its peak historical periods. It is these mundane leftovers that provide us with the facts and events of the daily life and economy of Jerusalemites 2000 years ago."
Prof. Yuval Gadot is the head of the Jacob M. Alkow Department of Archaeology and Ancient Near Eastern Cultures at Tel-Aviv University. Since 2013 he is directing Tel-Aviv University excavations at the 'City of David' and Co-directing the 'Lautenschläger Azekah Expedition'. His research in Jerusalem includes excavations of the ancient core together with interdisciplinary study of the rural landscape surrounding the city.
Preface
Yuval Gadot
Part I: Introduction and Stratigraphy
Chapter 1. Introduction
Yuval Gadot
Chapter 2. Stratigraphy
Yuval Gadot
Part II: The Finds
Chapter 3. The Pottery
Hélène Machline
Chapter 4. The Numismatic Finds
Yoav Far
Chapter 5. The Chalk Vessels
Yonatan Adler
Chapter 6. The Glass Finds
Ruth E. Jackson-Tal
Chapter 7.1 The Metal Artifacts
Chen Antler
Chapter 7.2 Report on Glassy Slag Fragments
Shan Huang and Ian Freestone
Chapter 8. The Plaster Fragments
Lena Naama Sharabi
Chapter 9. The Stone Scale-Weights
Ronny Reich
Chapter 10. Miscellaneous Finds
Nissan Ben Melech
Part III: Flora and Fauna
Chapter 11. Faunal Remains
Abra Spiciarich and Lidar Sapir-Hen
Chapter 12. Fish Remains
Omri Lernau
Chapter 13. Archaeobotanical Analysis
Helena Roth and Dafna Langgut
Chapter 14. Seeds, Grains, and Other Plant Organs
Ilana Peters and Ehud Weiss
Part IV: Synthesis and Summary
Chapter 15. Committing the Kidron's Western Slopes to Garbage Disposal: Jewish Urbanism Under Roman Hegemony
Yuval Gadot
Index of Loci
Mailing List
Subscribe to our mailing list and be notified about new titles, journals and catalogs.