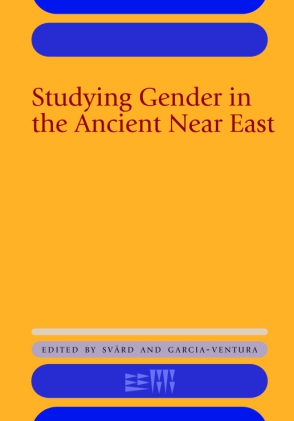 Studying Gender in the Ancient Near East
Edited by Saana Svärd and Agn
è

s Garcia-Ventura
Buy
Studying Gender in the Ancient Near East
Edited by Saana Svärd and Agn
è

s Garcia-Ventura
"This volume succeeds in the editors' broad goal of moving gender studies in the ANE forward. The editors deserve praise for organizing the workshops that led to this volume and publishing a collection of strong papers written by such a diverse group of scholars. One can only hope that the tools offered here will be adopted broadly and not only by researchers—most of them women—with a specific interest in gender issues."
Description

Reviews

Bio

Table of Contents
This volume explores how the interpretation of material from the ancient Near East is enriched through the application of diverse methodological and theoretical approaches to studying gender.

The contributors to this collection include both established and up-and-coming scholars whose work brings gender studies theories—from Butler's theory of gender as a performance to more recent theories that consider gender as a spectrum—to bear on varied materials and contexts. Their essays increase the visibility of women in ancient history, untangle constructions of masculinity and femininity in diverse contexts, and grapple with big-picture questions, such as the suitability of applying third-wave or postfeminist theories to the ancient Near East.
Studying Gender in the Ancient Near East
points to a need for—and provides a model of—a more productive agenda for gender studies in furthering our understanding of ancient Near Eastern societies.

In addition to the editors, the contributors are Julia M. Asher-Greve, Stephanie Lynn Budin, Megan Cifarelli, M. Érica Couto-Ferreira, Amy Rebecca Gansell, Katrien De Graef, Amélie Kuhrt, Stephanie M. Langin-Hooper, Brigitte Lion, Natalie N. May, Beth Alpert Nakhai, Martti Nissinen, Omar N'Shea, María Rosa Oliver, Frances Pinnock, Eleonora Ravenna, Allison Karmel Thomason, Luciana Urbano, Niek Veldhuis, and Ilona Zsolnay.
"This volume succeeds in the editors' broad goal of moving gender studies in the ANE forward. The editors deserve praise for organizing the workshops that led to this volume and publishing a collection of strong papers written by such a diverse group of scholars. One can only hope that the tools offered here will be adopted broadly and not only by researchers—most of them women—with a specific interest in gender issues."
Agnès Garcia-Ventura is Juan de la Cierva Postdoctoral Researcher at the University of Barcelona.
Saana Svärd is the Director of the Centre of Excellence in Ancient Near Eastern Empires at the University of Helsinki.
Acknowledgments
Abbreviations
Theoretical Approaches, Gender, and the Ancient Near East: An Introduction
Agnès Garcia-Ventura and Saana Svärd
From La Femme to Multiple Sex/Gender
Julia M. Asher-Greve
Gender in the Tale of Aqhat
Stephanie Lynn Budin
Gender, Personal Adornment, and Costly Signaling in the Iron Age Burials of Hasanlu, Iran
Megan Cifarelli
When Women Get Ill: Gendered Constructions of Health and Disease in Cuneiform Texts on Healing
M. Érica Couto-Ferreira
Puppets on a String? On Female Agency in Old Babylonian Economy
Katrien de Graef
In Pursuit of Neo-Assyrian Queens: An Interdisciplinary Methodology for Researching Ancient Women and Engendering Ancient History
Amy Rebecca Gansell
Postfeminism and Assyriology: An (Im)possible Relationship?
Agnès Garcia-Ventura
Gender Experiments in Hellenistic Babylonian Figurines
Stephanie M. Langin-Hooper
Gender and Methodology in the Study of 2nd-Millennium B.C.E. Family Archives
Brigitte Lion
Neo-Assyrian Women, Their Visibility, and Their Representation in Written and Pictorial Sources
Natalie N. May
Factors Complicating the Reconstruction of Women's Lives in Iron Age Israel (1200–587 B.C.E.)
Beth Alpert Nakhai
Empire of the Surveilling Gaze: The Masculinity of King Sennacherib
Omar N'Shea
Rethinking Gender Relationships in a Sociopolitical Context during the Time of Zimri-Lim
María Rosa Oliver and Eleonora Ravenna
Building Up a History of Art of the Ancient Near East: The Case of Ebla and the Third-Millennium b.c.e. Court Ladies
Frances Pinnock
(Re)constructing the Image of the Assinnu
Saana Svärd and Martti Nissinen
After "Profits": Methodological and Historiographic Remarks on the Study of Women, Textiles, and Economy in the Ancient Near East
Allison Karmel Thomason
Marriage Policy in Mari: A Field of Power between Domination and Resistance
Luciana Urbano
Gender Studies and Assyriology: Expectations of an Outsider
Niek Veldhuis
Analyzing Constructs: A Selection of Perils, Pitfalls, and Progressions in Interrogating Ancient Near Eastern Gender
Ilona Zsolnay
Gender and Methodology in the Ancient Near East: Final Thoughts
Amélie Kuhrt
Contributors
Index of Authors
Mailing List
Subscribe to our mailing list and be notified about new titles, journals and catalogs.