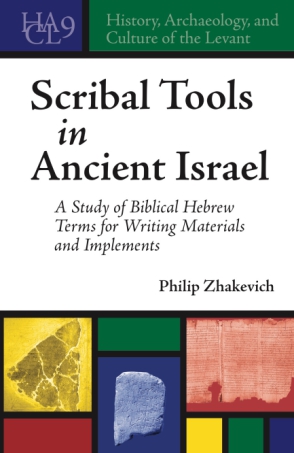 Scribal Tools in Ancient Israel
A Study of Biblical Hebrew Terms for Writing Materials and Implements
Philip Zhakevich
Buy
Scribal Tools in Ancient Israel
A Study of Biblical Hebrew Terms for Writing Materials and Implements
Philip Zhakevich
"Scribal Tools in Ancient Israel makes a singular, useful contribution that will be consulted and used by scholars for generations to come."
Description

Reviews

Bio

Table of Contents

Sample Chapters
In this book,
Philip Zhakevich
examines the technology of writing as it existed in the southern Levant during the Iron Age II period, after the alphabetic writing system had fully taken root in the region. Using the Hebrew Bible as its corpus and focusing on a set of Hebrew terms that designated writing surfaces and instruments, this study synthesizes the semantic data of the Bible with the archeological and art-historical evidence for writing in ancient Israel.
The bulk of this work comprises an in-depth lexicographical analysis of Biblical Hebrew terms related to Israel's writing technology. Employing comparative Semitics, lexical semantics, and archaeology, Zhakevich provides a thorough analysis of the origins of the relevant terms; their use in the biblical text, Ben Sira, the Dead Sea Scrolls, and ancient Hebrew inscriptions; and their translation in the Septuagint and other ancient versions. The final chapter evaluates Israel's writing practices in light of those of the ancient world, concluding that Israel's most common form of writing (i.e., writing with ink on ostraca and papyrus) is Egyptian in origin and was introduced into Canaan during the New Kingdom.
Comprehensive and original in its scope,
Scribal Tools in Ancient Israel
is a landmark contribution to our knowledge of scribes and scribal practices in ancient Israel. Students and scholars interested in language and literacy in the first-millennium Levant in particular will profit from this volume.
"Scribal Tools in Ancient Israel makes a singular, useful contribution that will be consulted and used by scholars for generations to come."
"This book is a satisfying, methodical study that will appeal to readers interested in the areas of Hebrew lexicography, literacy, and scribal culture."
Philip Zhakevich is Lecturer in Hebrew at Princeton University.
List of Figures and Tables
Acknowledgments
List of Abbreviations
Chapter 1. Introduction
Chapter 2. Papyrus
Chapter 3. Stone and Plaster
Chapter 4. Skins, Scrolls, Tablets, Ostraca, and Uncommon Writing Surfaces
Chapter 5. Scribal Instruments and Glyptics
Chapter 6. Egypt's Influence on Canaan and Ancient Israel
Chapter 7. Conclusion
Works Cited
Ancient Sources Index
Subject Index
Mailing List
Subscribe to our mailing list and be notified about new titles, journals and catalogs.