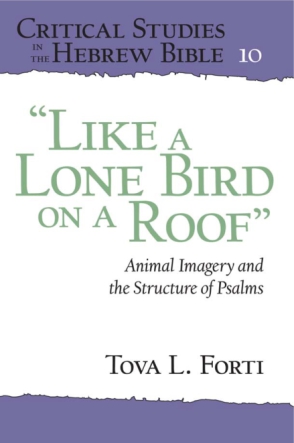 "Like a Lone Bird on a Roof"
Animal Imagery and the Structure of Psalms
Tova L. Forti
Buy
"Like a Lone Bird on a Roof"
Animal Imagery and the Structure of Psalms
Tova L. Forti
"Overall, [Forti] displays commendable consistency in her approach to metaphors. Her work may serve as a useful methodological tool for any future research into metaphors in the Psalms."
Description

Reviews

Bio

Table of Contents
In this volume, Tova Forti shows how investigation of the poetics of the animal kingdom can elucidate the effect metaphors exert on psalmodic theology. The focus herein on the faunal imagery in Psalms—the literary perception of the animals adduced and the structural and stylistic rhetorical features of the imagery—serves as a lens through which the reader can perceive the poetic dynamics and their impact upon and interaction with the psalm as a prayer.
Forti pays particular attention to the contextual meaning and cultural environment of animal imagery to show how faunal images are used in the formulation and communication of didactic truths and principles regarding human behavior. These depictions can occasionally function as imitato animalis by imbuing animals with human characteristics of language, thought, and empathy, animal life in order to illustrate basic moral precepts.
This volume focuses upon two principal poetical devices—refrains and secondary interpolations—in which animal imagery in the Psalms is often employed as a stage-setting device. A literary analysis of the structure of the psalms in which this faunal imagery is employed reveals the figurative and symbolic impact of this particular domain upon the poetic texture of each psalm. This methodology has diachronic consequences, demonstrating that both poetical devices may function as means of composition in the ongoing process of creating liturgy.
"Overall, [Forti] displays commendable consistency in her approach to metaphors. Her work may serve as a useful methodological tool for any future research into metaphors in the Psalms."
"Forti has presented a stimulating discussion on a topic that can be easily overlooked. Animal imagery, while not infrequently used in the Psalms, can be ignored or treated superficially. This study reminds us of the significance of such imagery and the multiple effects it has on both the structuring of the text and the concepts being presented in the text."
Tova L. Forti is Associate Professor in the Department of Bible Archaeology and Ancient Near Eastern Studies at Ben-Gurion University of the Negev and the author of Animal Imagery in the Book of Proverbs.
Preface
Introduction
The Psalms as Liturgy
Imagery, Metaphor, and Simile
Synopsis of Research on Metaphors in the Psalms
The Focus of Investigation and Methodology
Chapter 1 Faunal Imagery in Psalmodic Refrains
Psalm 49:13, 21: A wisdom motif of human ignorance and the futility of wealth—בהמות 'beasts'
Psalms 59:7, 15; 22:13–14, 17, 21–22; and 118:10–12: Animal imagery as representing the psalmist's adversary
Psalm 59:7, 15: Wild-dog imagery to denote the psalmist's enemy—כלב 'dog'
Psalm 22:13–14, 17: Bulls, mighty ones of Bashan, lions, dogs, and wild oxen as metonyms for the psalmist's adversaries—כלב 'dog,' פר 'bull,' אריה 'lion'
Psalm 118:10–12: Bee imagery as denoting the psalmist's enemies—דבורה 'bee'
Chapter 2 Faunal Imagery as Secondary Interpolation
Proverbs 1:10–19
Psalm 84:4: Intimacy with God—צפור 'bird' and 'sparrow' דרור
Psalm 102:7–8: Desolation and isolation—קאת 'great owl,' כוס 'owl,' and צפור 'bird'
Psalms 33:16–17 and 32:8–9: Wisdom motifs within theological contemplation—סוס 'horse' and פרד 'mule'
Psalm 32:8–9 83
Conclusion
Faunal Imagery in Psalmodic Refrains
Faunal Imagery as Secondary Interpolation
Bibliography
Indexes
Index of Authors
Index of Scripture
Mailing List
Subscribe to our mailing list and be notified about new titles, journals and catalogs.