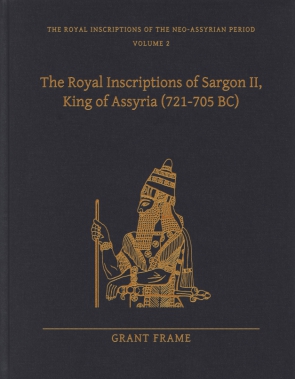 The Royal Inscriptions of Sargon II, King of Assyria (721–705 BC)
Grant Frame
Buy
The Royal Inscriptions of Sargon II, King of Assyria (721–705 BC)
Grant Frame
"Frame must be warmly thanked for the present edition, not only because of its quality, but particularly because of its completeness."
Description

Reviews

Bio

Table of Contents

Sample Chapters
The Neo-Assyrian king Sargon II was one of the most important and famous rulers of ancient Mesopotamia. In this volume of critically important ancient documents, Grant Frame presents reliable, updated editions of Sargon's approximately 130 historical inscriptions, as well as several from his wife, his brother, and other high officials.
Beginning with a thorough introduction to the reign of Sargon II and an overview of the previous scholarship on his inscriptions, this modern scholarly edition contains the entire extant corpus. It presents more than 130 inscriptions, preserved on stone wall slabs from his palace, paving slabs, colossi, steles, prisms, cylinders, bricks, metal, and other objects, along with brief introductions, commentaries, comprehensive bibliographies, accurate transliterations, and elegant English translations of the Akkadian texts. This monumental work is complemented by more than two dozen photographs of the inscribed objects; indices of museum and excavation numbers, selected publications, and proper names; and translations of relevant passages from several other Akkadian texts, including chronicles and king lists.
Informed by advances in the study of the Akkadian language and featuring more than twice as many texts as previous editions of Sargon II's inscriptions, this will be the editio princeps for Assyriologists and students of the Sargonic inscriptions for decades to come.
"Frame must be warmly thanked for the present edition, not only because of its quality, but particularly because of its completeness."
Grant Frame is Professor Emeritus of Assyriology at the University of Pennsylvania, Curator of the Penn Museum's Babylonian Collection, former Director of the Center for Antient Studies at the University of Pennsylvania, and the founder of the Royal Inscriptions of the Neo-Assyrian Period Project. He is the author, editor, or coeditor of numerous books, including A Common Cultural Heritage: Studies on Mesopotamia and the Biblical World in Honor of Barry L. Eichler and Ur in the Twenty-First Century CE: Proceedings of the 62nd Rencontre Assyriologique Internationale at Philadelphia July 11–15, 2016, both of which are available from Eisenbrauns.
List of Figures
Contents of Scores
Foreword
Preface
Editorial Notes
Bibliographical Abbreviations
Other Abbreviations
Object Signatures
Introduction
I. Assyria
Dur-Sharrukin
Assur
Kalhu (Nimrud)
Nineveh
II. The West and Northwest
Cyprus
Ashdod
Unknown ('Beirut' / 'Hamath')
Acharneh
Til-Barsip (Tell Ahmar)
Tell Tayinat
Carchemish
Melid (Arslantepe)
III. Iran
Qal'eh-i Imam
Tang-i Var
Najafabad
Persepolis
IV. Babylonia
Babylon
Uruk
Tell Haddad
V. Miscellaneous
VI. Uncertain Texts
VII. Royal Family and Officials
Minor Variants and Comments
Index of Museum Numbers
Index of Excavation Numbers
Index of Names
Concordances of Annals Line Numbers
Concordances of Selected Publications
Scores of Inscriptions (on Oracc)
Mailing List
Subscribe to our mailing list and be notified about new titles, journals and catalogs.