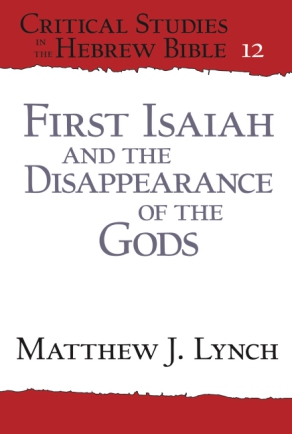 First Isaiah and the Disappearance of the Gods
Matthew J. Lynch
COMING IN JUNE
First Isaiah and the Disappearance of the Gods
Matthew J. Lynch
"The references to idols in the first half of the book of Isaiah have never before been studied together in detail. Given the prominence of the subject in the second half of the book, this is a surprising gap that Lynch here fills with great insight. This will prove to be an enduring contribution to the wider topic of the development of monotheism in Israel."
Description

Reviews

Bio
Isaiah 1–39 uses the unique term אלילים—usually translated as "idols"— more than anywhere else in the Hebrew Bible. In fact, ten out of eighteen occurrences of the word are in this section, suggesting that it may even be a First Isaian neologism. Using this linguistic phenomenon as a point of departure, Matthew J. Lynch reexamines the rhetorical strategies of Isaiah 1–39, revealing a stronger monotheizing rhetoric in First Isaiah than previously recognized.
Standard accounts of Israelite religion frequently insist that monotheism reached its apex during the exile, and especially in Deutero-Isaiah. By contrast, Lynch's study brings to light an equally potent mode of monotheizing in First Isaiah. Lynch identifies three related rhetorical tendencies that emphasize yhwh's supreme uniqueness: a rhetoric of avoidance, in which the author chooses not to confer the status of אלהי (god) on other deities, preferring instead the dysphemistic אליל (idol); a rhetoric of exaltation to emphasize yhwh's "high," "lofty," and "exalted" status in opposition to all that which exalted itself; and a rhetoric of abasement, wherein all other claimants to absolute power—whether human or divine—are subjugated absolutely before the divine king.
Succinctly and persuasively argued, Lynch's book will change how biblical scholars understand the nature and development of Israelite monotheism. It will be welcomed by scholars and students of the Hebrew Bible, in particular those whose research centers on First and Second Isaiah.
"The references to idols in the first half of the book of Isaiah have never before been studied together in detail. Given the prominence of the subject in the second half of the book, this is a surprising gap that Lynch here fills with great insight. This will prove to be an enduring contribution to the wider topic of the development of monotheism in Israel."
Matthew J. Lynch is Dean and Lecturer in Old Testament at Westminster Theological Centre. He is the author of Monotheism and Institutions in the Books of Chronicles and Portraying Violence in the Hebrew Bible: A Literary and Cultural Study.
Mailing List
Subscribe to our mailing list and be notified about new titles, journals and catalogs.