American Academy of Religion/Society of Biblical Literature Virtual Booth
Welcome to the virtual book exhibit for the Annual Meeting of the AAR/SBL. Use the coupon code SBL20 for 30% off.
Meet the acquisitions editor for Eisenbrauns, Dr. Jen Singletary. She welcomes the opportunity to meet prospective authors and hear about their work. If you are working on a manuscript, developing a book project, or just have an idea for a book in ancient Near Eastern or biblical studies, please inquire with Jen by sending her an email message with a brief description of the idea (no more than 300 words, please). Jen will review the submissions and, if the project looks like a good fit for the list, will be in touch about setting up a Zoom meeting.
Browse the PSU Press AAR/SBL offerings here.
Mailing List
Subscribe to our mailing list and be notified about new titles, journals, and catalogs.

Catalog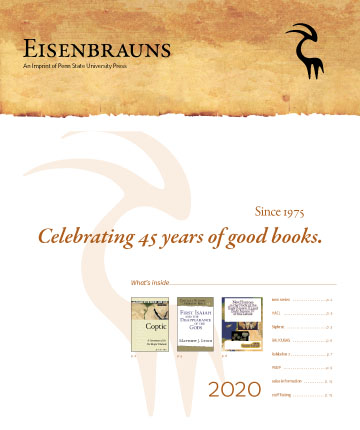 2020 Titles